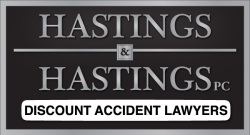 Phoenix, AZ (PRWEB) June 20, 2015
If your loved one has passed away at the hands of a corporation, product, physician, medication, or auto accident, then Hastings and Hastings urges you to secure legal counsel. An attorney will be able to help you recover the damages you incurred from medical fees, lost wages, and the pain and hardship caused by the accident.
"Wrongful death lawsuits are a unique area of personal injury. The death of a loved one can be heart wrenching and a drain on finances. That is why whenever a wrongful death suit comes our way, we take care to ensure that families are compensated justly for their difficult times," said Erwin Braich, attorney at Hastings and Hastings.
Pressing a successful wrongful death suit can be a complicated process that one should not attempt to undergo without proper legal representation. One has the right to represent themselves in court, but most experts would not suggest waiving that right. Representation from a personal injury attorney is highly advisable.
The first step in pursuing a wrongful death suit involves meeting with a lawyer for a consultation. Your attorney should determine whether your case falls within the statute of limitations; they will decide if your case merits a wrongful death suit; and they might predict a recovery amount from the defendant.
After the initial consultation, your lawyer will begin collecting evidence, help you build a convincing argument, and interview witnesses. Basically, your attorney will zealously represent you and attempt to put together a strong case that would succeed in court.
Often, people wonder what type of accidents are associated with a wrongful death suit. Typically, wrongful death suits are associated with car accidents, bike accidents, pedestrian accidents, nursing home neglect and abuse, workplace accidents, medical malpractice, and defective products. It's also not uncommon for people to inquire about typical defendants in a wrongful deaths suit. Frankly, there're too many possibilities to recount. For example, in an automobile accident the driver of the vehicle, his employer, the agent responsible for failing to report a road hazard, maybe the company that over-served the driver, and of course, the driver's insurance agency are all potentially liable.
No matter what the situation, it's best you undertake the difficult process of dealing with a wrongful death with the help of an attorney. It's important to have a protector in your corner to guide you through the process and help to secure the compensation you deserve.