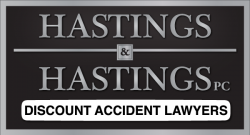 Phoenix, AZ (PRWEB) June 21, 2015
A successful premise liability case against a gym is difficult but not impossible. Typically, the greatest obstacle in the way of a successful premise liability case against a gym or health spa is the liability waiver. But an experienced attorney should be able to overcome the obstacle, and navigate their client to compensation for their medical bills and hardship.
"Premise liability cases against a gym or health spa can be difficult, but that is not to say a successful suit is impossible," said Anthony Campagnolo, Attorney at Hastings and Hastings.
It should be no surprise to anyone that accidents occur at the gym all the time. Packing a single space full of heavy weights, people, and perspiration is a surefire recipe for accident and misfortune. Although gyms require you to sign their liability waiver, they can be sued like any other property owner if they fail to take "reasonable steps to assure the safety of their premises." Essentially, gyms follow the same rules as any other premise liability case. No doubt gyms are required to inspect equipment and the premises regularly. Failure to do so could result in a successful law suit.
As a general rule of thumb, you ought to gauge if the gym owner or any members of his staff failed to prevent a reasonable injury. For instance, failure to mop up a water spill for a negligent interval of time could result in a feasible premise liability case. Also, knowledge of a dangerous equipment, and the failure to remove that equipment from the premises is another likely scenario for another successful premise liability case.
People usually shy away from premise liability suits against the gym because of the liability waiver they're required to sign. But that waiver does not disqualify you from recovering damages from negligence. First off, most gym liability waivers involve a total waiver of liability. Basically, this stipulation attempts to free the gym from any and all injuries you might incur while on the premises. But, this could be interpreted as overly broad, and therefore, unacceptable in court. Also, most gym contracts involve a waiver for negligence. This is aimed to exempt the gym from any negligence they might perpetrate. However, a court of law may overrule this stipulation, given that negligence is an essential element of personal injury.