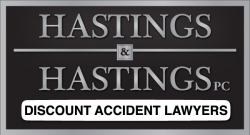 Phoenix, AZ (PRWEB) June 21, 2015
When someone lends a car to a friend, they still remain liable for any damages the friend causes while driving the car. Basically, car insurance applies to the car more than the driver. However, cases of this sort can be fairly complicated and legal representation is highly recommended.
"It's always best to consult a qualified attorney when dealing with a hairy automobile accident. Our attorneys at Hastings and Hastings have over 150 years of combined experience," said John C. Coste, Attorney at Hastings and Hastings.
Loaning someone a car deals with the principle of vicarious liability. Basically, someone becomes liable for damages caused by the driver of the car because ultimately they permitted the scenario to happen. Consider Pontius Pilate from the gospel who allowed the rabbis to condemn Jesus to death. Many Christians consider Pilate partly guilty, and this is not unlike vicarious liability.
The California Vehicle Code section 17510 reads as follows: "every owner of a motor vehicle is liable and responsible for death or injury to persons or property resulting from a negligent or wrongful act or omission in the operation of the motor vehicle." The key words here are owner and omission in the operation of the motor vehicle.
Although a car owner is ultimately liable for the actions of the person they loaned the car to, their liability is usually limited. For instance, the California Vehicle Code section 1751 reads, "an owner's liability is limited to $15,000 if the accident causes injury to one person, and $30,000 if two or more persons are injured." It seems that statutory law offers some leeway for individuals loaning their car to a poor driver.
However, if the loaner is negligent, the limitation for compensatory damages falls to the wayside. Examples of negligent lending are as follows: loaning someone who is clearly inebriated; or allowing them to drive the car with the knowledge that the vehicle is not fit for driving.
In summation, lending anyone a car is highly inadvisable. It could result in the loss of capital and the loss of a friend. Someone are better off coming up with an excuse to deem the car inaccessible.