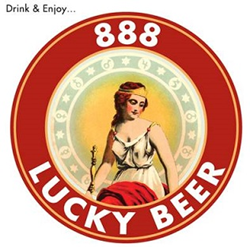 "AdMerk will donate a % of the 888 Lucky Beer purchase price to give hope to people in reaching their dreams and life aspirations..."
Washington D.C. (PRWEB) July 07, 2015
888 Lucky Beer will venture out into space with live broadcast pictures and videos from an outsider view of the earth on August, 8 2015. 888 Lucky Beer is joining the ranks of Google that sent the Nexus S into space and Samsung that sent the Samsung Galaxy S II into out to space mission.
888 Lucky Beer is now available for wholesale purchase for the official sales launch date of August 8, 2015 in Supermarkets, Liquor stores, Bars and Restaurants in Washington DC, Maryland and Virginia and for export worldwide. For more information, visit http://paugustin.com/wholesale
The 888 Lucky Craft Beer is made locally in the Washington DC area from a secret formula that even the National Security Agency (NSA), the Central Intelligence Agency (CIA), the Federal Bureau of Investigation (FBI), The Russian GRU, The United Kingdom MI6, the German BND, the Chinese MSS, the French DGSE, the Pakistan ISI, the Australia ASIS and the Israel MOSAD cannot find out our closely held private trade secrets.
Mr. Pierre Richard Augustin said that craft beer lovers worldwide will enjoy and appreciate the 888 Lucky Beer secretive and intellectual taste from Washington, D.C. and invite beer lovers to have a try ... and to help spread the word!
Mr. Augustin, President and CEO of the private corporation, want to especially raise awareness for AdMerk's charitable vision and mission to give hope to persons in more than 88 countries who are not as lucky.
"Essentially, when anyone drink and enjoy the 888 Lucky Beer, AdMerk will donate a % of the purchase price to give hope to people in reaching their dreams and life aspirations", said Mr. Augustin. For more information, call 617.202.8069 or to place a wholesale order for the United States and Worldwide, visit http://paugustin.com/wholesale
Contact Info:
888 Lucky Beer by AdMerk Corp. Inc.
20 F Street, NW, Washington, DC 20001
Pierre Richard Augustin, President and CEO
E-mail: pierreaugustin(AT)paugustin(DOT)com