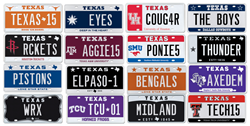 Austin, Texas (PRWEB) June 18, 2015
My Plates, the official specialty license plate vendor in Texas has released a number of previously reserved license plate messages for immediate sale. Some of these messages have previously been offered for sale by auction, some were reserved for marketing purposes and many of the 7-letter messages have never appeared on a Texas plate before.
There are over 80 license plate messages that have been released in this first batch under the theme of GR8 PL8S FOR SALE! Notable messages now available for purchase are TEXAS-15, AGGIES-15, BENGALS, THUNDER and WRX.
Every month, My Plates plans to add to the GR8 PL8S list so as to offer Texans a preview of available plate messages as well as a great place to buy them.
"One of the biggest reasons why someone does not buy a plate is because their preferred message is already gone. This page of GR8 PL8S will provide all Texans with ready to buy messages that are truly one-of-a-kind" said Steve Farrar, President of MyPlates.com.
With over 80 available plate messages to choose from there is sure to be something that piques everyone's interest, from car lovers, to college grads, to sports fanatics and Texas themes. My Plates believes these great plate combinations won't stay available for long and it will be a first come, first served offering, so if there's one you want, you had better act fast.
You visit the My Plates home page or you can use the direct link http://www.myplates.com/gr8pl8s to access the GR8 PL8S available.
Since November 2009, Texans have purchased more than 237,000 My Plates, putting more than $30M in the general revenue fund, which helps pay for services for all Texans.
____________________________________________________________
Contact Steve Farrar at (512) 633-7978 or steve(AT)myplates.com