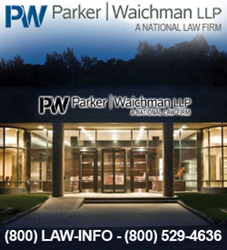 As a firm that represent many individuals who have filed lawsuits over alleged injuries associated with Medtronic's InFuse, we are very pleased to see the litigation continue to move forward
Port Washington, New York (PRWEB) June 18, 2015
Parker Waichman LLP, a national law firm dedicated to protecting the rights of victims injured by defective drugs and medical devices, announces three filings, two judicial assignments, and three status conferences, all filed on June 16, 1015 in the Circuit Court of the City of St. Louis, State of Missouri, 22nd Judicial Circuit. Filings involve lawsuits brought over Medtronic's InFuse Bone Graft and LT Cage product and were filed on behalf of numerous plaintiffs who were surgically implanted with the InFuse Bone Graft and LT Cage medical product. The filings were made by Jerrold Parker of Parker Waichman LLP; Richard J. Arsenault of Neblett Beard & Arsenault; Nicholas Drakulich of The Drakulich Firm; Eric Holland of The Holland Law Firm; and Mark Lanier of The Lanier Law Firm.
In an effort to keep the cases moving forward, the Missouri Circuit Court, Twenty-Second Judicial Court, City of St. Louis, has set Status Conferences for September 2, 2015 in Smith vs. Medtronic (Case No. 1322-CC9531-02), Hendrich vs. Medtronic (Case No. 1422-cc-1224-01), and Anders vs. Medtronic (Case No. 1322-CC10219-02).
In addition, the Missouri Circuit Court, Twenty-Second Judicial Court, City of St. Louis, has issued Orders for Judicial Economy on the Court's own motions and specifically assigned Smith vs. Medtronic (Case No. 1322-CC9531-02) and Hendrich vs. Medtronic (Case No. 1422-cc-1224-01) for trial to Division 5, Judge Mark Neill.
"As a firm that represent many individuals who have filed lawsuits over alleged injuries associated with Medtronic's InFuse, we are very pleased to see the litigation continue to move forward," said Gary Falkowitz, Managing Attorney at Parker Waichman. "We continue to provide free consultations for anyone who seeks more information about their rights."
Court documents for the actions involved all similarly allege product liability and fraud against device maker, Medtronic Inc., and its wholly owned subsidiaries, Medtronic Sofamor Danek, USA, Inc., and Medtronic Sofamor Danek, Inc. over its InFuse Bone Graft LT-Cage Lumbar Tapered Fusion Device System. InFuse received very narrow and limited U.S. Food and Drug Administration (FDA) approval for use in a single level fusion. In 2002, InFuse was approved for singular placement between two vertebrae in the lumbar region; use was assiduously expanded in 2004 to include the L4-S1 region and was later approved for use in a specific surgical approach: the Anterior Lumber Interbody Fusion (ALIF). InFuse is a system that combines two components and consists of three parts.
According to court documents, most plaintiffs underwent spinal fusion surgery with fusion cages; all plaintiffs underwent a spinal fusion procedure and procedures were generally performed due to back pain. Reported injuries associated with the off-label use of InFuse include adverse reactions in the cervical spine, including, but not limited to, swelling, dysphagia (difficulty swallowing), and dysphonia (voice disorders), according to court documents.
Parker Waichman is currently offering free legal consultations to victims of Medtronic InFuse Bone Graft Injuries. If you, or someone you know, suffered a serious complication or injury after receiving Medtronic InFuse, please contact the office by visiting the firm's website at yourlawyer.com. Free case evaluations are also available by calling 1-800-LAW-INFO (1-800-529-4636).