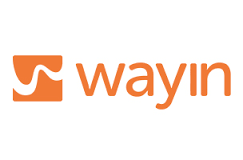 Denver, CO (PRWEB) June 18, 2015
A new integration between social media intelligence and marketing software company Wayin and online social analytics leader Klout will help brand marketers and media outlets better understand conversations taking place on Twitter, Facebook and Instagram to act upon them in meaningful ways.
Wayin will fully integrate Klout's profile data into their analytics and display technology, giving Wayin customers the ability to filter the social content they surface based on a person/brand's expertise on a given topic and their overall social influence. Wayin gives marketers and media outlets the ability to discover, understand and act on social media content, enabling the creation of dynamic marketing experiences across every channel. Klout, a Lithium brand, uses social media analytics to gauge a person/brand's online influence and topic expertise based on their reach and engagement across digital channels, which includes the size of their social network, the content that they create, and how other users interact with that content.
"Wayin's search criteria effectively answers the what, when, and where," said Jamey Wood, CTO of Wayin, "Our partnership with Klout now gives our customers the ability to augment the data set further, better understanding the 'who' behind social content."
"The Klout data set is absolutely massive, with over 700 million social profiles scored and analyzed in our system," said Katy Keim, Chief Marketing Officer, Lithium + Klout. "Finding the highest quality social content from the most influential users was once like finding a needle in a haystack. But with this integration, Wayin customers will now be able to ensure only the highest quality content gets surfaced, from people with specific subject matter expertise and influential social profiles."
Along with keywords, location information and demographic details, Wayin customers can now use Klout data to filter out low-quality accounts and spammers from their searches, focusing on more relevant, top-level influencers. Searches can also be ranked according to Klout scores, which is particularly beneficial for customers who want to prioritize top influencers while still including lower-quality accounts in a search.
"The addition of Klout provides Wayin customers with added author context so that they can be confident they've found the content they're looking for," said Wood. "We're excited about partnering with Klout to provide our customers with the highest quality social media curation and intelligence so they can understand the full story around social media content and act on it by creating marketing experiences that advance business goals."
The partnership with Klout comes on the heels of an agreement with Facebook, which incorporated public Facebook and Instagram content into Wayin's search results. The platform now searches across all three major social networks and provides display capabilities for all content.
About Lithium
Lithium builds trusted relationships between the world's best brands and their customers, helping people get answers and share their experiences. Customers in more than 34 countries rely on Lithium to help them connect, engage, and understand their total community. With more than 100 million unique monthly visitors over all Lithium communities and another 600 million online profiles scored by Klout, Lithium has one of the largest digital footprints in the world. Using that data and the company's software, Lithium customers boost sales, reduce service costs, spark innovation, and build long-term brand loyalty and advocacy. To find out how Lithium can transform your business—and to share the experience enjoyed by 300 other leading brands around the world, visit http://www.lithium.com, join our community at community.lithium.com, or follow us on Twitter @LithiumTech. Lithium is a privately held company headquartered in San Francisco.
About Wayin
Wayin is a social media intelligence and marketing software company that offers solutions to surface the best social trends and content to persuade action and drive marketing results. Wayin gives brands control over their social data to create real-time experiences for consumers that foster trust and drive action.
Co-founded by Scott McNealy, the former Sun Microsystems CEO and co-founder, Wayin is led by key Sun Microsystems alumni, as well as top digital and media industry veterans. Wayin is based in Denver with offices in New York, San Francisco, Los Angeles, Atlanta, Japan, Brazil and Hong Kong. http://www.wayin.com, @wayin