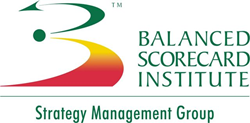 "This is a groundbreaking event in Ghana," said SEC's Executive Chairman, Dr. Camynta Baezie
Cary, NC (PRWEB) June 23, 2015
On June 17, 2015, Ghana State Enterprises Commission (SEC), representing the Office of the President, announced the development of a performance evaluation framework using the balanced scorecard to monitor the performance of State-Owned Enterprises (SOEs). Consistent with the SEC's mandate to provide support for the SOEs in having sound management practices, the evaluation framework will use the Balanced Scorecard Institute's Nine Steps to Success™ to establish meaningful performance measures linked to strategic objectives for each of the SOEs.
"This is a groundbreaking event in Ghana," said SEC's Executive Chairman, Dr. Camynta Baezie. "It is the first time in the history of our SOEs that they will implement a consistent framework to assess performance."
Baezie said many of the 41 wholly-owned SOEs underperformed compared to their own targets, while others are incurring operating losses. High financial costs are resulting in inefficient service delivery, wasted resources, and accumulation of debts. The SOEs are concentrated largely in critical sectors of the economy such as petroleum, power, water, housing, transport, agriculture, logistics, procurement, finance, media and infrastructure. Therefore, the SOEs are critical to the management of public finances and public policy.
"The balanced scorecard will establish a consistent management system and clear accountability that enables each SOEs to align its processes and focus the entire organization on implementing short- to medium-term strategy for improved service delivery, more efficient use of scarce public resources, debt elimination and creating more jobs," said Baezie.
Once the balanced scorecard systems have been developed for each SOE, unique Key Performance Indicators (KPIs) for each SOE will be used to monitor and track performance and improvements. Specialized training in the use of meaningful performance measures also will be used to ensure sustainable, good performance management practices and improve reporting of actual performance against SOE performance contract elements to enable them to meet the goals of their corporate plans.
"The Balanced Scorecard Institute's Nine Steps to Success is a disciplined, practical, and tested approach to developing corporate and employee strategic planning and management systems based on the balanced scorecard," said Charles Odoch Langoya, BSI's Regional Coordinator for Africa. "The Nine Steps to Success framework has helped more than 200 government and other organizations in 39 countries to build their strategic planning and performance management system."
About the Balanced Scorecard Institute (BSI): The Balanced Scorecard Institute, a Strategy Management Group Company, provides strategic planning, balanced scorecard and performance measurement and management training, certification, and consulting services to government, non-profit, and commercial organizations. Services include public and on-site courses, facilitation and consulting services, and information and tools used by executives, managers and analysts to transform their organizations into "performance excellence" organizations. The Balanced Scorecard Institute has trained more than 7,000 participants worldwide.
BSI's website-- http://www.balancedscorecard.org --is a leading resource for information, ideas and best practices on strategic planning and management, performance measurement, and balanced scorecard systems. BSI's Nine Steps to Success™ balanced scorecard framework integrates strategic planning, budgeting, operational planning, performance measurement and strategy execution into a disciplined framework for helping organizations achieve higher levels of performance.