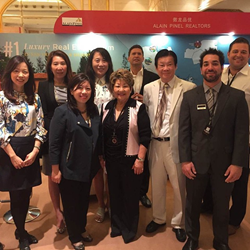 "As international interest in investing in Bay Area real estate is at record levels, the LPS event is just one aspect of a multi-pronged approach in marketing our properties and our services to a global audience," said Rainy Hake, Executive Vice President
(PRWEB) June 19, 2015
Several agents from Alain Pinel Realtors (APR), including Michi Olson, APR Vice President, Global Business Development and Relocation, attended the LPS Property Showcase in Beijing. This is the third consecutive year APR has sponsored a booth at the invite-only luxury real estate event.
Held April 24-25, the expo welcomes over 5,000 Chinese luxury property buyers, high-end investors, VIPs and wealthy individuals. Now in its eighth year, the event at the Legendale Hotel features over 80 exhibitioners from over 20 countries and focuses on high-end properties. Sponsored by Maserati, Ferretti Group and Bank of East Asia, the event is considered Beijing's leading luxury property showcase.
"If you are serious about attracting international buyers, you have to be there," said Olson of the event. "It is a unique opportunity that allows APR agents to network and create meaningful relationships and connections in China." Widely seen as the premier Bay Area brokerage at the conference, APR and Olson were selected to speak on the Bay Area real estate market and lifestyle at their educational sessions.
APR's participation in the event is part of a comprehensive global marketing strategy that the company has implemented over the past year. As well as launching China.APR.com, the firm's Chinese language website hosted in China, APR announced expanded advertising of their listings on international websites, image ads in international publications, relationships with service providers and financial institutions, and personalized international client assistance.
"As the Bay Area's largest residential real estate brokerage, we aggressively seek out strategies that get the most exposure to our clients properties," said Rainy Hake, APR's Executive Vice President. "As international interest in investing in Bay Area real estate is at record levels, the LPS event is just one aspect of a multi-pronged approach in marketing our properties and our services to a global audience."
About Alain Pinel Realtors
Alain Pinel Realtors (APR) is the fifth largest residential real estate firm in the United States and the largest privately-owned residential real estate company in California based on its closed sales volume. The firm has 1,400 agents in more than 30 offices throughout Northern California. Celebrating a quarter century in Bay Area real estate, APR was founded in 1990 by CEO and President Paul L. Hulme, and is based in Saratoga, California. Visit us at apr.com, China.APR.com and connect with us on facebook.com/AlainPinelRealtors and @AlainPinel.
###