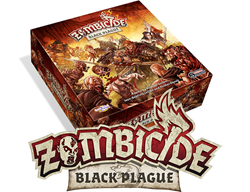 Gamers loves all things Zombicide!
Alpharetta, Georgia (PRWEB) June 19, 2015
Zombicide Black Plague, a new board game in the already popular Zombicide series was launched June 8 2015 on Kickstarter. Within 24 hours, it raised $1.2 million from more than 9000 backers.
Zombicide Black Plague reimagines the popular Zombicide universe in a fantasy setting. Players collect new weapons, explore towns and buildings, fight terrible monsters, and gain unique special abilities, including magical spells.
Clearly exciting previous backers and new fans alike, Zombicide Black Plague's launch caused Kickstarter's servers to slow. With so many people trying to pledge in the first few minutes of the campaign, backers were reporting that it was taking upwards of 30 minutes for their pledge to be processed. Despite this, Zombicide Black Plague managed to raise $1.2 million in its first 24 hours, making it one of the fastest funded board games on Kickstarter ever.
David Doust, CEO for CMON Inc. said, "We're so pleased at the incredible success of Zombicide Black Plague. Beyond the outpouring of support we're seeing from the fans on Kickstarter, this campaign tells us that the gamers loves all things Zombicide! This is a very positive sign for the future of the Zombicide brand."
Zombicide Black Plague is a fully cooperative board game where players fight off a zombie horde and their necromancer masters in a fantasy setting. The game was designed and developed by Guillotine Games, and will be published by CMON Inc. The Zombicide Black Plague Kickstarter campaign will end Monday, July 6th at 8pm EDT. The campaign can be found at http://cmon.com/ZombicideBP