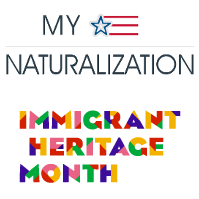 My Naturalization is offering its filing online tool for free the last week in June, as recognition of the importance and significance of Immigrant Heritage Month
Miami, Florida (PRWEB) June 23, 2015
The latest statistics from Washington indicate that close to 9 million people are eligible for US citizenship. Certain of these individuals may be having difficulty understanding USCIS requirements and guidelines. Others may be having difficulty working their way through a process which can be problematic and beyond their ability to pay and, perhaps, not achieve the desired outcome.
To help with this, My Naturalization is offering its filing online tool at no cost for the last week in June.
"It is our hope this will help some a few more Legal Permanent Residents to apply for citizenship. It's the recognition of the importance and significance of Immigrant Heritage Month" said My Naturalization's Management Team. "As the United States deals with the ever burgeoning numbers of immigrants that come to our shores seeking freedom and opportunity for themselves and their families, there is a need to mitigate these complexities however our country can, for those who can appropriately qualify for U.S. citizenship."
About Immigration Heritage Month
Immigrant Heritage Month is a nationwide effort to gather and share inspirational stories of immigration in America, set to kick off in June. The month will celebrate our country's immigrant heritage--stories of individuals, families and communities who have contributed to the unique social fabric of a country whose greatness is fueled by its diversity.
Immigrant Heritage Month 2015 will include partnerships with community organizations, elected officials, corporations, media outlets, athletes, artists and thought leaders who will help us amplify our message, encouraging us all to celebrate our immigrant heritage as a source of pride.
About My Naturalization.
MyNaturalization.com is a law firm incorporated in 2015 in Florida. The company is owned and operated by experienced and proven immigration attorneys. It aims to make the process of applying for United States Citizenship faster, easier and affordable for those who do not require assistance by an immigration attorney.
MyNaturalization.com is a private website and is not affiliated with the U.S. government or any government.
MyNaturalization.com is a law firm, but it does not substitute for the advice of an immigration attorney.