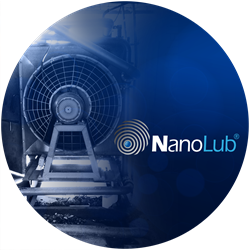 (PRWEB) June 24, 2015
A new independent case study conducted by Mirrico Group of Companies, found significant improvements in the performance of a Gas Powered Generator treated with NanoLub® EP AW/AF oil additive, manufactured by "Nanotech Industrial Solutions, Inc." (NIS), the US based innovative nano-lubricant company.
The tests were performed on a GFG 90 type gas powered generator manufactured by JSC "Volzhsky Diesel Mamynih", a leading Russian based gas powered generator manufacturer. The tests were conducted on a generator used at JSC "Volzhsky Diesel Mamynih" own power generation facility.
Encompassing 200 hours of operation, NanoLub® was found to reduce oil consumption by about 87%, lower average gas consumption by 5% and immediate gas consumption by 2%. The lubricant thermal properties were improved as well with flash point increased by about 16°C.
The full case study can be downloaded here, or received by request form NIS's technical department.
About NanoLub®
The NanoLub® product family has received the prestigious Nano 50TM Award by Nanotech Briefs (publishers of NASA Tech Briefs) and it is the first successful commercial implementation of inorganic, multi-layered fullerene-like nanoparticles in Extreme Pressure (EP) lubricants, based on patented and award-winning technology developed at the Weizmann Institute of Science.
NanoLub® operates a dual-effect mechanism: multi-layer tungsten disulfide nanospheres lower friction and heating, thereby reducing mechanical wear. Extreme pressure conditions causes nanospheres to create a tribofilm layer that attaches to surface crevices and smoothens them, thereby extending mechanical efficiency and equipment life.
About Nanotech Industrial Solutions Inc.
Nanotech Industrial Solutions is the manufacturer of NanoLub®, an innovative nano lubricant based on inorganic particles of fullerene-like tungsten disulfide. These revolutionary particles were first developed in 1992 by Prof. Reshef Tenne at the Weizmann Institute of Science. The technology is exclusively licensed to Nanotech Industrial Solutions for commercialization Worldwide. NIS has attracted the best minds in the fields of nano technology, chemistry, and various targeted industry applications like lubricating oils, greases, coatings, metal working fluids, polymers and composites. NIS's global corporate office, commercialization R&D lab, manufacturing, blending and packaging facilities are located in Avenel, NJ.
For more information, visit: http://www.nisusacorp.com/