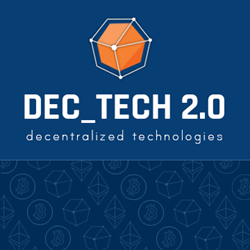 "The influx of VC funding in Fintech and the blockchain space is growing rapidly"
Toronto, Ontario (PRWEB) June 19, 2015
Decentral and the Toronto Ethereum Meetup Group are pleased to announce the second Decentralized Technology (DEC_TECH) event, to be held in Toronto on July 14, 2015. Through a partnership with MaRS Discovery District, the event will be hosted at the MaRS Centre. As Fintech and blockchain technologies gain in popularity, DEC_TECH 2.0 brings together leading entrepreneurs to discuss the imminent release of Ethereum, the buying and selling of Bitcoin and cryptocurrencies in Canada, and venture capital in the decentralized technology space. Register for this free event here.
"Over 300 people attended our first DEC_TECH event in March," said Anthony Di Iorio, President and Founder of Decentral and host of DEC_TECH 2.0. "Awareness is growing rapidly, and we couldn't be happier to have the chance to hear about these developments directly from some of the field's leading innovators."
In the months leading up to its release, DEC_TECH 2.0 is excited to showcase Ethereum, a platform where applications can be built and run on a decentralized network. Presentations and panels will feature Ethereum founders Vitalik Buterin, Joseph Lubin and Anthony Di Iorio talking about the technology.
As it becomes increasingly easy to buy Bitcoin and cryptocurrencies in Canada, with more options available than ever before, DEC_TECH 2.0 will hear from four speakers working at the forefront of the digital currency exchange industry: Gerald Cotton (QuadrigaCX), Jaron Lukasiewicz (Coinsetter & Cavirtex), Virgile Rostand (Coinsquare) and Jamie Robinson (QuickBT).
Bringing a venture capitalist's perspective on decentralized technology is Tally Capital's Matthew Roszak, an active investor in the space. "The influx of VC funding in Fintech and the blockchain space is growing rapidly," says Adam Nanjee, Head of Financial Technology, MaRS. "We are pleased to continue our collaboration with Decentral to foster Toronto's leading cryptocurrency and Decentralized Tech community."
Space for this free event is limited and guests are asked to register in advance. Doors open at 6:00p.m., with presentations from 6:30p.m. until 8:30p.m. and networking opportunities and refreshments to follow until 9:00p.m.
About DEC_TECH
DEC_TECH is organized by Decentral in partnership with the Toronto Ethereum Meetup Group and MaRS Discovery District to provide events with a passion for Decentralized Technologies, Cryptocurrencies and Fintech advancement. Join the community and register for this free event.
About Decentral
Decentral in Toronto is home to innovators, entrepreneurs and technology consultants specializing in blockchain and decentralized tech. Our enterprise, small business and start-up clients rely on us as skilled and experienced guides to this rapidly developing and highly disruptive space.
For general information, press inquiries or sponsorship opportunities please contact:
Anthony Di Iorio
Decentral
416.831.9593
anthony(at)decentral(dot)ca