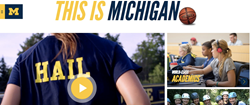 ThisisMichigan.com goes beyond facts and data points to tell the compelling story of the program.
Ann Arbor, Michigan (PRWEB) June 19, 2015
Leading independent digital media, design and technology agency Enlighten today announced the launch of ThisisMichigan.com (http://thisismichigan.com), a first-of-its-kind athletics recruiting hub for the University of Michigan Athletics department. Ann Arbor-based Enlighten was retained by the esteemed college – which counts Google co-founder Larry Page and football great Tom Brady among its alumni – to execute an extensive responsive website design that would assist U of M in continuing to attract the caliber of talent that has already generated 56 national championships, 307 individual championships and 150 Olympic medals.
In the Define phase of the project, Enlighten interviewed every University of Michigan coach along with potential recruits, recently signed recruits and current student-athletes to assess their recruiting site needs and digital behavior. The resulting web destination incorporates innovative design trends and such visual assets as student-produced imagery and original video, created in collaboration with third party video production vendor Dark Spark Media. Behind-the-scenes features provide potential recruits with a candid, in-depth look at the University of Michigan, its world-class Athletics program and the city of Ann Arbor, ranked 13th Best Place to Live in the US by Livibility.com in 2014.
Site sections include Academic Success, Health & Welfare, Leadership & Career, Campus Life, Traditions and For Parents & Advisors, and are supported by rich visuals, video and original copy to assist visitors in the decision making process. In the We Are Michigan section, dozens of interactive testimonials from past and present University of Michigan athletes are coupled with bold photos and social media feeds to create an engaging and memorable site experience, while the Experience Michigan interface offers both Ann Arbor- and Campus-specific galleries and insider facts to familiarize visitors with the area.
The site delivers information on all 31 of the University of Michigan's sports teams, and is completely responsive for use on desktops, tablets and smartphones of all kinds.
"Recruiting sites for university athletic programs are rare, but in the competitive world of athletic recruiting they've become critical to securing top talent," says Tom Beck, President of Enlighten. "ThisisMichigan.com goes beyond facts and data points to tell the compelling story of the program, its participants and the beautiful city of Ann Arbor in a visually dynamic and wholly engaging way."
About Enlighten
Enlighten (http://www.enlighten.com) is an award-winning digital marketing, online advertising, web development, data analytics and strategic consulting firm building innovative online experiences for major brands including AAA, Domino's Pizza, Hunter Douglas, illy caffè, Janus Capital Group, Jimmy John's, Johnson & Johnson, Presbyterian Healthcare Services, The Henry Ford and more. Based in Ann Arbor, the independent digital marketing agency was founded in 1983.