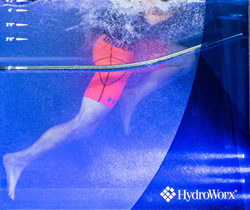 We developed the HydroWorx 300 to help bring aquatic therapy to more individuals in need.
Middletown, PA (PRWEB) June 22, 2015
As the leader in high-tech therapy pools, HydroWorx is no stranger to the annual National Athletic Trainers' Association (NATA) Clinical Symposia & AT Expo, having attended for more than a decade. This year marks the 66th NATA Clinical Symposia & AT Expo, and the event from June 24-26, 2015, in St. Louis, MO, promises to be bigger and better than ever. As an exhibitor in booth #1723, HydroWorx plans to add to the excitement by unveiling a revolutionary therapy product.
The newest innovation in aquatic therapy, the HydroWorx 300, will be debuted on the opening day of the event. This performance unit enables universities, teams, clinics, retirement communities and other organizations to offer water therapy and performance training anywhere. "We developed the HydroWorx 300 to help bring aquatic therapy to more individuals in need," says Anson Flake, HydroWorx CEO and Co-Founder. The HydroWorx 300 is the new benchmark for construction-free unweighting devices. Utilizing warm water therapy as a medium to enhance rehabilitation and performance through water's buoyancy, resistance and hydrostatic pressure, this advanced hydrotherapy system provides the ultimate rehabilitation advantage. To schedule a time to run on the newest underwater treadmill, or to schedule a personal walk-through of the benefits of the new product please contact us at corporate(at)hydroworx(dot)com.
Also in the HydroWorx booth #1723, certified athletic trainers can enter the drawing to win a PolarPlunge pool by filling out a short market survey. Three athletic trainers will have the chance to compete to win the PolarPlunge pool on Thursday, June 25th at 11:30 a.m. in HydroWorx's booth, #1723. You must be present to win.
Also on Thursday, June 25, at 11:30 a.m., HydroWorx will announce the winner of the 3rd HydroWorx Excellence in Aquatics Award (SMED). To find out more about this prestigious honor, click here.
About HydroWorx®
Since the late 1990s, HydroWorx has manufactured aquatic therapy pools with built-in underwater treadmills to enable clinicians to more effectively offer their athletes and patients the opportunity to increase range of motion, decrease risk of falls and joint stress and remain motivated through the rehab process.
Products such as the HydroWorx 2000 and 500 Series therapy pools have revolutionized the face of aquatic therapy; in fact, HydroWorx technology is used by world-class facilities like The Andrews Institute, Michael Johnson Performance and the Navy Seals as well as many professional and college sports teams across the country.
HydroWorx offers a wide range of underwater treadmill pools and peripheral products and services. Every day, more than 23,000 athletes and patients use HydroWorx technology to recover from injuries and health conditions. More information about HydroWorx can be found at http://www.HydroWorx.com.