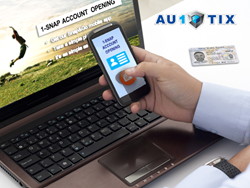 Our customers are relying on us to securely and easily support them as they send money to their loved ones around the world, and we're pleased to be continuing working with AU10TIX to ensure this continues.
Nicosia, Cyprus (PRWEB) June 23, 2015
AU10TIX BOS provides Small World Financial Services with a Secure Customer Onboarding gateway that enhances KYC effectiveness while improving operating efficiency. BOS replaces and augments manual ID image examination and record generation with next-generation, machine learning enhanced technology. BOS's advanced image processing and risk detection analytics enable exclusive multi-factor authentication capabilities and higher success rates in handling sub-optimal image qualities. Seconds-fast turnaround and detailed exceptions report enable Small World Financial Services to increase conversion success changes, reduce fraud and comply with KYC regulations – even at high traffic volumes.
"We earned our leadership position by providing our customers with engaging service and staying ahead of the technology game," says Nicholas Day, CEO of Small World Financial Services: "BOS enables deeper and more systematical fraud protection than otherwise possible whilst also ensuring a frictionless customer onboarding experience, and far more efficient back office operations. Our customers are relying on us to securely and easily support them as they send money to their loved ones around the world, and we're pleased to be continuing working with AU10TIX to ensure this continues."
"We are glad to have won the appreciation of a major player such as Small World Financial Services," says Ron Atzmon, Managing Director of AU10TIX: "Our colleagues put AU10TIX BOS through a meticulous testing process and the results spoke for themselves. BOS has won for a reason. It is different from conventional solutions and sets next-generation technology standards.100% automation, seconds-fast processing, multi-factor authentication, better handling of sub-optimal image qualities – these are among the unique benefits that will help Small World Financial Services keep ahead of the game."
"We put customer onboarding on steroids in regulated markets," says Ofer Friedman, VP Marketing of AU10TIX: "Customer ID authentication and record generation are major bottle-necks and resource drainers – especially in the online space. It's a conversion success rates issue. It's a risk issue. It's a cost issue. Any financial services provider that strives to grow realizes it pretty quickly. We created a technology that's especially designed for online conditions rather that converting conventional paradigms. That's a huge difference. We are glad to see Small World Financial Services joining in and benefitting from these capabilities."
About Small World Financial Services
Small World FS is a London-headquartered fintech provider of trusted, simple and low cost international payment services from 32 countries worldwide. Providing international payment services for consumers to send money to 188 countries worldwide, with a global pay-out network of over 250,000 locations as well as real-time bank transfers, Small World FS has over the past decade grown rapidly to become Europe's leading payments service provider, and a member of Tech City UK's exclusive Future Fifty programme.
For more information, visit http://www.smallworldfs.com/
About AU10TIX
AU10TIX Limited, a fully owned subsidiary of ICTS International N.V, deals with the authentication and digitization of identifying documents including Passports, identity cards, driving licenses and other complementary identifying documents. The company specializes in implementing hardware & software based applications used for scanning, identifying, content retrieval, authentication and validation of identifying documents. AU10TIX is a pioneer of all-channel (front-end and online) ID authentication and processing solutions. The company's products drastically reduce identifying document-based fraud, reducing the costs associated with client processing and enabling effective regulatory compliance, while making the sales and support operations speedier and considerably more efficient.
For more information, visit http://www.au10tix.com
About ICTS International N.V.
ICTS specializes in the development and implementation of innovative security concepts and solutions designed to meet the needs of a variety of industries, mainly aviation transportation, border control and sensitive facilities. ICTS International benefits from over two decades of expertise and international operational experience in transportation security, with a particular emphasis on high-risk environments, passenger processing transactions and the integration of security services to provide a comprehensive security solution. It also offers a wide variety of customized training programs, tailored procedures and a wide range of security consulting services. The company has developed and implemented unique technological solutions, based on its comprehensive approach to security, designed to enhance the level of security while accelerating the security check process.
For more information, visit http://www.icts-int.com
This press release contains "forward-looking statements" within the meaning of the Private Securities Litigation Reform Act of 1995, regarding the Company's business strategy and future plans of operations. Forward-looking statements involve known and unknown risks and uncertainties, both general and specific to the matters discussed in this press release. These and other important factors, including those mentioned in various Securities and Exchange Commission filings made periodically by the Company, may cause the Company's actual results and performance to differ materially from the future results and performance expressed in or implied by such forward-looking statements. The forward-looking statements contained in this press release speak only as of the date hereof and the Company expressly disclaims any obligation to provide public updates, revisions or amendments to any forward-looking statements made herein to reflect changes in the Company's expectations or future events.
Contact:
Small World Financial Services
Emma Parrott
Emma(at)fieldhouseassociates(dot)com
Tel.: +34 918 389 008
AU10TIX
Ofer Friedman, VP Marketing
Email: ofer(dot)friedman(at)au10tix(dot)com
Tel.: +357 (22) 007698
ICTS International NV
Alon Raich
Email: mail(at)ictsinternational(dot)com
Tel.: +31-20-716 3421