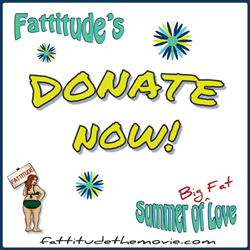 "We hope to gain mainstream distribution and shake the very foundation upon which fat hatred is built. We encourage others to get involved and be part of a global movement towards social equality and self-love." - Lindsey Averill
New York, NY (PRWEB) June 23, 2015
Fattitude, a feature-length documentary that exposes how popular culture fosters fat prejudice and then offers an alternative way of thinking, announces its summer campaign, "Fattitude's Big Fat Summer of Love" Fundraising Campaign.
Just as the name suggests, Fattitude will be pouring out love, sneak peeks and special goodies all summer long as they continue to fundraise to complete their trailblazing documentary. Donating to this lively campaign is tax deductible and funds continue to be solicited throughout the summer. Campaign highlights will include the release of at least 48 clips of never seen before footage - featuring voices like Ricki Lake, Tess Munster, Chastity Garner, Lindy West, Andrew Walen, Guy Branum and many more.
Every time $1,000 is raised, Fattitude will give away a prize to a randomly selected fan from their mailing list! Unique prizes and "experiences" have been donated by Fattitude interviewees and supporters, such as Skype book clubs with book authors, personal messages from famous people or signed copies of DVDs.
"Fattitude's ultimate goal is to change the national conversation about body image so that it focuses not only on issues of self-acceptance, but also on legitimate questions of systemic cultural prejudice," said Lindsey Averill, Producer of Fattitude. "We hope to gain mainstream distribution and shake the very foundation upon which fat hatred is built. We encourage others to get involved and be part of a global movement towards social equality and self-love."
Fattitude's "Summer of Big Fat Love" is a major part of Fattitude's overall fundraising strategy. In order to complete production Fattitude needs to raise $100,000, which will go towards cinematic finishing, such as sound editing, color correction, graphics and musical score.
Fattitude is fiscally sponsored by the Independent Film Project and accepts tax-deductible electronically at http://fiscal.ifp.org/project.cfm/754/Fattitude/.
To get involved, visit Fattitude's website http://www.fattitudethemovie.com or social media pages
Facebook, Twitter @fattitudemovie and Instagram.
About Fattitude:
Created by Lindsey Averill and Viridiana Lieberman, Fattitude is groundbreaking feature length film that exposes how popular culture fosters weight bias and then offers alternative ideas and ways of thinking, those which embraces body acceptance at all sizes. This is a film that looks to educate and activate. Its goal is to inform people about the harsh and very real realities of fat shaming and fat hatred. It hopes to inspire people to speak out about the prejudice they face or the mistreatment of others. Discussion of Fattitude has been seen in media all over the world, including; xojane, Huffpost Live, NPR, Missy Magazine, News24, ABC.com, Huffington Post Women, The Dr. Oz Show and others.