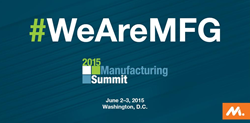 Reshoring in today's economy is different than decades ago and new policies are needed to support this movement.
Atlanta, Georgia (PRWEB) June 23, 2015
PartnerTech is a leading systems integration and electronics manufacturer located in Atlanta and a wholly owned subsidiary of PartnerTech AB of Sweden. With a growing list of clients seeking a Made In America manufacturing solution, Bruce is actively involved with organizations that support the growth of manufacturing in the U.S. In addition to the National Association of Manufacturers (NAM), Bruce is actively involved with the Georgia Tech Manufacturing Institute promoting workforce readiness, Technology Associates of Georgia and The Swedish-American Chamber of Commerce-Georgia supporting business relationships between the U.S. and Sweden.
The 2015 Manufacturing Summit is the latest of several important collaborative industry meetings attended by Gary Bruce. Other key events attended by Bruce and other PartnerTech executives are Select USA Summit and the TechAmerica DC Fly-In coordinated by the Technology Association of Georgia. Each of these events work to inform industry leaders on key legislation being considered in Washington and provide an important opportunity to speak directly with representatives about challenges to the industry within the states they represent.
"Connecting with legislators and gaining detailed information on current policy issues is important in making informed decisions. And the value of gathering industry professionals with a collective voice is significant in helping to shape policies that actually work to increase growth in manufacturing. Reshoring in today's economy is different than decades ago and new policies are needed to support this movement", states Gary Bruce.
NAM's 2016 Summit will be held in DC on June 7th -8th.
About PartnerTech
PartnerTech is a global industrial partner offering customized solutions throughout the product lifecycle, from product development to manufacturing and aftermarket services, in a number of market areas such as MedTech and Oil & Gas. With approximately 1,400 employees at its plants in Sweden, Norway, Finland, Poland, the UK, the United States and China, PartnerTech reports annual sales of more than $335MM. PartnerTech AB, the parent company, has its head office in Malmö, Sweden, and is listed on the Nasdaq OMX Stockholm Exchange.
PartnerTech Inc. is a wholly owned subsidiary of PartnerTech AB of Sweden and offers expertise in systems integration and postponement manufacturing, making them an obvious choice for companies seeking to lower costs through better forecasting, supply chain alternatives, and efficiencies in distribution and management of capital investments. Services are tailored to fit the needs of each client, with regard to scaling production, shipping expertise, and sourcing methods.
About NAM
The National Association of Manufacturers (NAM) is the largest manufacturing association in the United States, representing small and large manufacturers in every industrial sector and in all 50 states. Manufacturing employs nearly 12 million men and women, contributes more than $1.8 trillion to the U.S. economy annually, has the largest economic impact of any major sector and accounts for two-thirds of private-sector research and development. The NAM is the powerful voice of the manufacturing community and the leading advocate for a policy agenda that helps manufacturers compete in the global economy and create jobs across the United States.