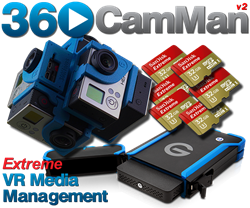 360CamMan V2's new features are aimed at supporting the growing VR community.
Los Angeles, CA (PRWEB) August 13, 2015
360CamMan V2, a software package developed to handle the complex media management challenges faced by virtual reality content creators, is now available for Mac and PC. With the original 360CamMan introduced in 2012 as the world's first VR media management solution, V2 represents the culmination of three years of 360 video workflow engineering and development. From file transfer and storage to organization and optimization, 360CamMan was created as a tool to answer the needs of the emerging VR content creator community.
"Over the course of the past three years it became apparent that media management was a missing link in the VR content creation pipeline," said 360CamMan developer and 360Heros founder and CEO Michael Kintner. "This was a huge challenge faced by content creators that we wanted to solve and build solutions for. 360CamMan V2's new features are aimed at supporting the growing VR community and applying what we've learned through years of VR content creation, workflow development and post production."
As with the first generation of 360CamMan, Version 2's core features aim to help users manage, analyze and organize video files captured with 360 video camera systems. With 360CamMan's diverse toolset, users can import and organize hundreds of files from multiple cameras while analyzing the data to ensure consistent specifications. This simultaneous data ingestion and advanced reporting means film crews can review media as it's captured on-set or in the field.
In terms of camera compatibility, 360CamMan has been developed as a camera agnostic solution in an effort to share its tools with the entire VR content creator community. The software is fully compatible with any of the multi-camera 360 video solutions on the market as it supports standard six, seven and 10 camera solutions as well as 12, 14 and 16 camera 3D configurations. 360CamMan's ability to integrate with a wide variety of 360 video camera systems and camera types (360CamMan supports GoPro cameras as well as many other camera models) means VR filmmakers can take advantage of its workflow tools regardless of their camera hardware preferences.
In addition to its proven media management features, 360CamMan V2 introduces a suite of video conversion tools for creating VR content. Features such as 3D file building and 2D file optimization allow content creators to produce video files that are prepared with the ideal specifications for the industry's most popular virtual reality headsets.
360CamMan V2 Features:

PC and Mac Compatibility
Automated MicroSD Card Formatting
Automated MicroSD Card File Copy
Video Take Organization and Renaming
Advanced Video File Analysis
Panoramic Photo and Time Lapse File Management
3D Side-by-Side File Creation for VR HMDs
2D Video Optimization for Oculus DK1, Oculus DK2, Samsung Gear VR, Dome Masters, Web 1K, 2K and 4K
Video Frame Sync Calculator
For more information on 360CamMan V2 visit http://www.360heros.com/
Download a trial version of 360CamManV2 for Mac or PC: http://bit.ly/1Hqk4Cb