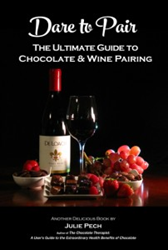 Denver, Colorado (PRWEB) June 19, 2015
The entertaining book is the result of more than a decade of research from Pech's experiences teaching chocolate and wine pairing classes. Forty different wines are reviewed and include a list of the unique flavors in each grape as well as regions where they're typically grown. To help the pairing process commence, three chocolate creations are listed for each wine, organized by varying degrees of experience one is willing to risk: Conservative, Edgy and Gone Wild. Also included are chapters on how to eat chocolate properly (yes, there are rules), how to choose the best glass for each wine, chocolate and wine flavor wheels with all the connoisseur's jargon, recipes, how to make your own chocolate concoctions and a collection of the best websites and references on how to host a private gathering.
Julie Pech is also the author of "The Chocolate Therapist: A User's Guide to the Extraordinary Health Benefits of Chocolate " (Wiley, 2010) as well as the owner of The Chocolate Therapist chocolate company in Littleton, Colorado. The shop makes handcrafted, all-natural chocolates to support the clean-eating and healthy chocolate concepts covered in her first book (The Chocolate Therapist). The pure recipes, made with all-natural chocolate and organic flavoring oils, make for extraordinary chocolates to pair with wine, a combination that has helped Pech become a pioneer in the fast-growing chocolate and wine world.
Julie speaks regularly about the health benefits of chocolate, teaches chocolate and wine and chocolate and tea pairing classes and has traveled internationally on cruise ships as a guest lecturer educating people about chocolate.
"Dare to Pair" is available on the company's website, http://www.TheChocolateTherapist.com, as well as http://www.Amazon.com, Kindle Books and Smashwords.
For speaking engagements and appearances, contact Julie via e-mail (Julie(at)TheChocolateTherapist(dot)com) or through the information below:
Contact: Julie Pech
Website: http://www.TheChocolateTherapist.com
Phone: 303-795-7913