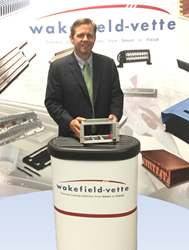 By entering into this partnership with Wakefield-Vette, Heitec AG will now be able to reach new and exciting marketplaces.
Raleigh, North Carolina (PRWEB) June 26, 2015
Wakefield-Vette, a global leader in thermal management solutions, has announced an exclusive strategic partnership with Heitec AG, a recognized leader in electronic packaging systems (EPS), to sell and service the Heitec product line to the North American market.
With this partnership in place, HEITEC AG Electronics Business Unit will expand its service and sales channels reach while complementing Wakefield-Vette's existing custom and standard EPS components to the North American marketplace. In addition Wakefield-Vette will now be able to offer a more robust system level solution while maintaining the flexibility of customizing existing technology and products. Heitec's EPS line will allow Wakefield-Vette to further penetrate its' existing customer base in the Defense/Aero, Industrial, Transportation, and Energy markets by offering both thermal and packaging solutions from one vendor. Wakefield-Vette and Heitec AG create an unique partnership unlike anything available today in the Electronics Marketplace.
HEITEC's EPS product portfolio comprises more than 1.800 catalogue products, spanning from system chassis components and subracks to system platforms based on standard architectures, e.g. VME, CompactPCI or MicroTCA.
"The addition of Heitec's line of Electronics Packaging Systems further enhances Wakefield-Vette's value proposition to provide the industry's broadest solutions for packaging and thermal management." says David Stone, Vice-President of Sales and Marketing at Wakefield-Vette. "We are gaining access to a superbly engineered, fully developed product line as well as tremendous engineering resources to help meet any application specific needs in the electronics packaging arena. With full product customization and support in our North Carolina and New Hampshire facilities, we can offer our customers a broad line of standard products with rapid modification and integration."
"Since Heitec took over the electronics packaging product line from Rittal more than five years ago, we have been successfully manufacturing, marketing and developing this extensive product portfolio – predominantly in Europe. By entering into this partnership with Wakefield-Vette, Heitec AG will now be able to reach new and exciting marketplaces." said Roland Chochoiek, Executive Vice President of the Business Unit Electronics at Heitec. "Wakefield-Vette's established footprint with both standard and custom EPS components through their dynamic sales channels will help extend our brand globally while creating great opportunity for the future of both companies."
About Wakefield-Vette
Wakefield-Vette is one of the world's leading complete end-to-end thermal solutions design, engineering and manufacturing companies, with over 50 years experience solving cooling challenges, at the component, system and facility level. Wakefield-Vette has multinational production facilities and is headquartered in Pelham, NH.
Learn more at http://www.wakefield-vette.com
About Heitec AG
HEITEC represents industry expertise in automation and electronics and offers solutions, products and services in the fields of software, mechanics and electronics. Over 2000 customers increase their productivity and optimize their products with the help of HEITEC's state-of-the-art, reliable and economic solutions. A work force of 1000 employees at numerous sites worldwide provides high-quality industry skills close to the customer. More than 60% of HEITEC's employees hold a graduate or postgraduate degree in technology. During the last years HEITEC has grown at an average annual rate of 10% – almost doubling its turnover within six years.
Learn more at http://www.heitec.de/en/home