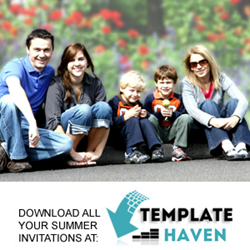 Family reunions can be exciting and rewarding events, but they don't have to be difficult.
(PRWEB) June 19, 2015
With school-aged children out of school, college students taking a summer break, and working adults using up vacation time, summer is often the best time to pull together family members from across town or across the world to get together for a family reunion. TemplateHaven.com has put together a Family Reunion Template Suite to help set off the event and keep everyone connected.
The first part of the series, and crucial to any party planning, is the invitation. TemplateHaven's reunion template is simple and easy to update. Images can be swapped out to include a collage of a previous reunion or any other personal touch. "We did our best to make the templates easy to use and easy to personalize. Most family reunions aren't last-minute ideas as it can take months for some family members to plan a trip out from another part of the country or world," says TemplateHaven spokesperson Mary Flynn, "but in the event that the reunion is planned in a short amount of time, our templates are here to help and make the process easier on everyone."
The second version of the invitation is a flier template. This highly customizable template features an area to describe the party or otherwise entice family to attend. Whether the party requires a formal invitation or more informal flier, TemplateHaven has covered both needs in the template suite.
The final piece in the Family Reunion Template Suite is a family newsletter template. This can be used before the reunion, leading up with family updates and who will be attending the reunion. It can also be used after the reunion to keep everyone connected well past the party. "We did our best to think of how to keep the party going, so to speak, "adds Flynn. "In this day and age with so many social networks to keep track of, it's still a more personal touch to receive a newsletter containing all the updates from your family."
All templates in the Family Reunion Suite can be copied and pasted into an email body to make the reunion an electronic experience. Family reunions can be exciting and rewarding events, but they don't have to be difficult. Download the Family Reunion Template Suite and get started on your next family reunion.
To view all summer invitation templates, visit TemplateHaven.com.