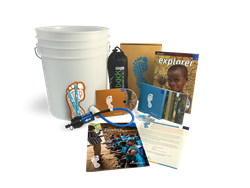 Step Into My Shoes is an amazing resource for churches and families.
Colorado Springs, CO (PRWEB) June 22, 2015
KidzMatter Magazine recently selected Compassion International's Step Into My Shoes (SIMS) advocacy toolkit as a leading ministry tool for children's and church pastors. SIMS, one of 23 selected curricula, is featured on the cover of KidzMatter's May-June 2015 curriculum edition.
SIMS is a four-step immersive, devotional experience that guides families and small groups through the daily lives of Ugandan Pastor Tom, his wife Nancy and their 12 children. The curriculum, designed for ages 5-12, features interactive activities, such as walking for clean water, a Ugandan market experience, and making a soccer ball out of plastic bags and twine. It is designed to teach children what it means to "live from enough" and help others in need. Each toolkit includes a welcome letter, items-needed list, activity cards, DVD, journey map, devotionals, prayer guide, memory verses and a Compassion Explorer magazine, Compassion's publication for children ages 6-10.
In 2015, SIMS was also chosen by Mothers of Preschoolers (MOPS) as a resource for the organization's Group Experience Kits for leaders. In addition, the toolkit is the preferred advocacy resource for Christian Alliance for Orphans' (CAFO) 2015 Orphan Sunday initiative, which will take place in November of 2015.
"Step Into My Shoes is an amazing resource for churches and families," said CEO and Publisher of KidzMatter, Ryan Frank. "It's important that families are equipped to be missional and aware of the needs within their community and the world around them. Step Into My Shoes helps them do just this!'
KidzMatter Magazine is a publication intended for children's ministry leaders. It contains specialized articles and features on everything from leadership to using trends in our world to help kids' ministers make a deep impact on the lives of kids and their leaders. For more information about KidzMatter, go to kidzmatter.com.
For more information or to purchase a SIMS toolkit, go to stepintomyshoes.org.
ABOUT COMPASSION INTERNATIONAL
Compassion International is the world's leading authority in holistic child development through sponsorship. Compassion revolutionized the fight against global poverty by working exclusively with the Church to develop children out of poverty to become responsible, fulfilled Christian adults. It is the only child sponsorship program to be validated through independent, empirical research. Compassion partners with more than 6,800 churches in 26 countries to release over 1.7 million babies, children and students from poverty in Jesus' name. Compassion has been awarded the highest rating for financial stewardship and transparency for 14 consecutive years by Charity Navigator, America's largest charity evaluator. For more information on the ministry, visit compassion.com or follow them on Twitter at @compassion.