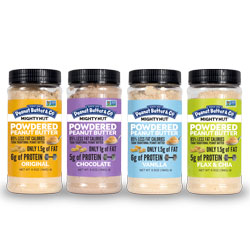 New York, NY (PRWEB) June 30, 2015
From the makers of Peanut Butter & Co. peanut butter comes Mighty Nut®, a new line of delicious powdered peanut butter.
Since Peanut Butter & Co. began as a peanut butter sandwich shop in New York City, its mission has always been simple – to help the world find delicious new ways to enjoy peanut butter every day.
Over the years, Peanut Butter & Co. peanut butter has been the choice of millions for its simple ingredients and delicious flavors. More and more, consumers are using Peanut Butter & Co. peanut butter as a source of protein to fuel their active lifestyles: blending it into smoothies, spreading it on apples, or simply scooping it from the jar with a spoon.
With these active consumers in mind, Peanut Butter & Co. is pleased to introduce Mighty Nut powdered peanut butter – the delicious peanut butter taste people love, with added protein, less fat, and fewer calories. Peanut Butter & Co. is the first natural peanut butter brand to enter the powdered peanut butter segment, which is the fastest growing segment in the peanut butter category.
To create each batch of Mighty Nut, Peanut Butter & Co. starts with quality USA grown peanuts, roasts them, and presses them to remove most of the fat. What remains is protein, fiber, and delicious peanut buttery taste. Each serving of Mighty Nut has 85% fewer fat calories than traditional peanut butter, and with five to six grams of protein per serving, Mighty Nut powdered peanut butter is an easy and tasty way to add protein to any meal or snack. Mighty Nut can be rehydrated and used as a spread or dip, or as an ingredient in baking, cooking, or smoothies. It is available in four delightful varieties: Original, Chocolate, Vanilla, and Flax & Chia. Vanilla and Flax & Chia are both new flavors to the category. Mighty Nut products are Non-GMO Project verified, gluten free, certified vegan, and kosher.
"Peanut butter is a delicious food that is beloved by so many people," said Lee Zalben, Founder & President of Peanut Butter & Co. "We're so glad to be able to offer the delicious flavor of peanut butter with a fraction of the calories."
Beginning August 2015, Mighty Nut will be available at retailers including Stop & Shop, Giant, and Kroger. It will also be available online at ilovepeanutbutter.com and Amazon.com.
About Peanut Butter & Co.
Peanut Butter & Co. began in 1998 as a cozy little sandwich shop in Greenwich Village, NYC and has since become one of the fastest growing natural/specialty food companies in the US. The company's ten varieties of all natural, flavored peanut butter are available in over 15,000 supermarkets and specialty retailers. Peanut Butter & Co is the #1 selling brand of all natural chocolate nut spreads in the US (Source: IRI). Peanut Butter & Co.'s products are made exclusively from USA-grown peanuts and were recently featured on The Dr. Oz Show, CBS Sunday Morning, and Fox & Friends. Find out more about Mighty Nut at mightynut.com, Facebook.com/GoMightyNut, and Twitter.com/GoMightyNut.