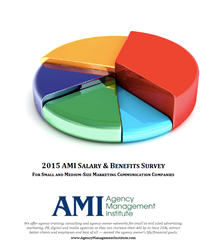 "The results clearly remind us that the agency model is under a radical evolution," said AMI president Drew McLellan.
Des Moines, IA (PRWEB) June 20, 2015
Agency Management Institute has just concluded their 2015 Salaries/Benefits survey and the results are an interesting commentary on how the agency model is evolving.
The survey results included:

1,537 respondents
Agency size ranged from 1 employee to over 150 employees
All regions of the US and Canada were represented although there were not enough Canadian responses for statistical validity
Most salaries either held steady or rose in the 2015 results. One area that that saw its salary range decline or at best, hold steady was the CEOs salary. As agency salaries increase and the ability to increase billable rates or project pricing has not – it appears as though some CEOs are robbing from themselves to increase the pay of their key employees.
The media department also took a hit in some cases. This may suggest that as agencies buy less traditional media (it seems like agencies are either specializing in this or hiring it out more and more) they are trimming some of their more expensive employees and keeping those middle-income team members.
Copywriters and content writers also saw a healthy increase in salaries, ranging from 5-10%.
Interestingly art directors and graphic designers did not see that same kind of increase; in fact in most categories they stayed steady with their 2014 salaries.
The most significant increases came in the digital departments, with programmers leading the way. The average increase in this department was 10+% over the 2014 salaries.
Clearly, agencies value their employees and try very hard to reward their team with a good set of benefits. In fact, most agencies' benefits packages rival that of much larger companies.
Agencies are scrambling to sort out the healthcare changes and many shared that they expect their benefit package will change dramatically over the next few years.
There were no significant changes to the benefits offered between 2014 and 2015, other than it seems like agencies were more likely to pay out some form of bonus this past year.
Average vacation time is on the increase. From AMI's work with agencies, we believe this increase is a combination of longer tenured employees and millennials negotiating for more time off instead of salary increases.
"The survey results indicate some good news – agencies are profitable enough that they can increase salaries and some looming danger – agencies are clearly worried that some of their key employees are vulnerable to other job offers as the economy gets stronger," commented Drew McLellan, Agency Management Institute's CEO.
It's interesting to note that in almost every size category, CEOs held steady or actually took a decrease while their rank and file employees all saw some sort of increase. It's also worth noting that it's clear where agencies are placing their bets in terms of employees who deliver value to them. The largest increases were in the account service, digital and copy/content areas, while art direction and media held steady or took a decline.
It seems that agencies have added more traffic and production staff. That had been a declining category in terms of the number of agencies that had those positions but that trend reversed with this survey.
The trend that is now so commonplace we probably need to stop calling it a trend is the work from home/remote employee trend. More and more agencies are embracing this concept, especially those in markets where the labor pool is either in high demand or scarce.
Overall, the results are encouraging. Agencies are rewarding their best performers with increases in salaries and a wonderful array of benefits. If you find your agency at the low end of either – I'd highly recommend you correcting the issue before your competitors poach your best employees. We are entering into a very competitive employment market and you should protect your most valuable asset – you're A-level employees.
The 40-page report includes:
Definitions of each job/role so that respondents and report readers can make sure they're comparing apples to apples
The second section reports the salary results for over 40 positions. These salary ranges are broken down by agency size, region of the country and we also share the overall ranges.
The benefits section shows how agencies are handling everything from bonuses, health insurance coverage, vacation and other perks
The final section is our analysis of the results
You can purchase the report for $99 at http://agencymanagementinstitute.com/agency-tools/salary-survey/
Agency Management Institute is an agency network representing independently owned advertising, marketing, public relations, digital and media agencies throughout North America. Over 100 agencies are members of this association.
It offers agency training, consulting and agency owner networks for small to mid sized advertising, marketing, PR, digital and media agencies so they can increase their AGI by at least 25%, attract better clients and employees and exceed the agency owner's life/financial goals.