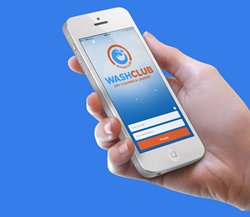 New York, NY (PRWEB) June 19, 2015
Consumers in Washington, D.C., Cleveland, Atlanta and Birmingham can skip the laundromat and forget about standing in line at the dry cleaners!
WashClub, washclubnyc.com, the nation's leading tech-based laundry and dry cleaning company with on-demand pickup and delivery, launches in Washington, D.C., Cleveland, Atlanta and Birmingham as it grabs a growing share of today's consumer market.
Available for free download on the Apple Store or Google Play, the WashClub app enables consumers to get laundry or dry cleaning picked up, cleaned and returned neatly folded within 24 to 48 hours of being scheduled remotely.
The unique WashClub app even allows customers to track progress of their order and get an e-mail/text alert when the driver is 30-minutes away or less with their clothes.
"Busy urban dwellers want the convenience of on-demand services," said WashClub President Rick Rome. "Cleveland, Washington, Atlanta and Birmingham residents will benefit from the services of a local laundry expert combined with our cutting-edge on-demand delivery technology."
WashClub offers its service through select local laundromats or dry cleaners, who license WashClub's patented logistic software, WashClubTrak, and also get a dedicated website and app along with training, marketing and technical support.
Since launching WashClub in 2012, the Brooklyn-based company has built a clientele of more than 12,000 customers in New York City. The group is now serving customers in Los Angeles, Dallas, Long Island, New Jersey and Pennsylvania, with more cities coming onboard soon as well as international expansion.
"WashClubTrak enables entrepreneurs to successfully compete with larger players in the laundry and dry cleaning industry by extending the radius of their businesses well beyond a storefront," Rome added. "Doing laundry is a time consuming, never ending problem that we solve."
WashClub also recently executed their first two "White Label" licensing contracts in Dallas, Texas with Wash-It-Kwik, and in Los Angeles with WashWizard, both state-of-the-art super laundry centers, which will each operate under their own names.
Consumers can access their local WashClub experts through the following websites: washclubdc.com; washclubatl.com; washclubcleveland.com and washclubal.com.
Contact:
Dave Closs
dave(at)zlokower(dot)com
(212) 863-4115