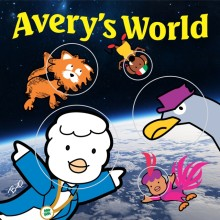 Avery's World is a happy show with a serious mission: to teach empathy, diversity, teamwork, and peace to children.
Los Angeles, California (PRWEB) July 06, 2015
A team of creative artists, peace activists, and kids television experts are harnessing the power of children's television for world peace. "Avery's World," a pre-school show about international culture and cooperation, is being produced by Bill Weber Studios, a media company with 25 years of experience in creating and promoting "great stuff for kids."
The team is using Indiegogo (accessed at http://www.averysworld.tv) to raise the funds necessary to make the pilot episode.
"Avery's World is a happy show about travel, music, and art," says company founder Bill Weber. "But it also has a serious mission: to teach empathy, diversity, acceptance and teamwork -- the foundations of peace -- to young children."
The show is centered on a group of animal friends from around the world who run an international rest stop for traveling animals. When a problem arises (due to a visitor, a missing ingredient in a recipe, an interesting art delivery, etc.), the characters put their heads together to come up with a solution. During this process, one of the characters is prompted to tell a story about his or her homeland, which inspires the solution to their common problem.
"When a character talks about their homeland," adds Weber, "we open a window into a foreign culture, empowering children to be proud of their heritage and their individuality, and to be open-minded toward others. Local art, architecture, fashion and cuisine are noted and celebrated.
"Research shows that when children feel more at home in the world, they are more successful in life. As the world gets smaller – through global communications and trade – children need the mind and spirit-expanding experience of other cultures. That's why, at the end of every show, there is a segment called 'Avery's Growing Up Global,' where Avery gives tips to parents and kids on simple activities that they can do to learn more and feel more confident and comfortable in the world."
ABOUT THE CAST
The show will be a combination of animation and puppetry. Weber, who is an award-winning graphic designer, designed the characters in the style of Japanese "kawaii." ("Kawaii," which literally means "adorable," is the same style of art as the immensely popular Hello Kitty.)
Avery, aka Ambassador Bird, is the international symbol of peace – the dove – and a natural hero for children. His partner is Rosalia – a Latina bird of paradise – who is a musician, singer and dancer. Avery and Rosalia are the leaders of the group. Ricotta Van Cheddars and Jubnah – mice from the Mediterranean and the Middle East – are scientists and mechanics. Ragnar – a Scandinavian foodie seagull – and Lakpa – a sports-loving Asian kitten – are the show's comic perpetrators.
ABOUT THE TEAM LEADERS
Bill Weber (Chief Creative Officer) is an artist, writer and entrepreneur with over 25 years of experience as an advocate for, and producer of, quality media for families. He designed the characters and created the format for Avery's World.
Bill created and published New York's pioneering local parenting magazine, Parents & Kids Directory. As the founder and president of the American Academy of Children's Entertainment, he collaborated with such kids' stars as Shari Lewis, John Burstein (Slim Goodbody), Bob McGrath, and Joanie Bartels, and partnered with Parenting Magazine, Opryland USA, and The Nashville Network on promotional events.
Stephen Cohn (Musical Director) is internationally recognized for his music for feature films, television, and the concert stage. He is the proud recipient of an Emmy and a Parents Choice Gold Award.
His scores have been part of many award-winning productions featuring such stars as Lily Tomlin, Joanne Woodward, Kathleen Quinlan, Colleen Dewhurst, William Shatner, and Wallace Shawn.
The campaign runs until August 28. To learn more, visit http://www.averysworld.tv.