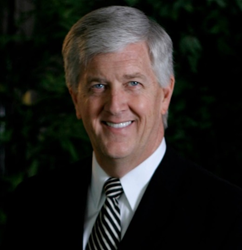 "From early in our lives, we've been given great compassion for those employees who are hurting and in need in the workplace, where we all spend most of our lives," Doug Fagerstrom, CEO Marketplace Ministries
Plano, Texas (PRWEB) June 20, 2015
Dr. Douglas L. Fagerstrom, a distinguished ministry leader, prolific author and visionary thinker has been named the Executive President and CEO of Marketplace Ministries, the original and leading workplace chaplaincy organization.
Fagerstrom, currently the Senior Vice President of Converge Worldwide in Orlando, Florida, will oversee the many components of Marketplace Ministries: Marketplace Chaplains USA, Marketplace Chaplains International and Railroad Chaplains.
He will work closely with Board Chairman Will Thomas who has been serving as Marketplace Ministries interim CEO and with Ministry Founder, Gil A. Stricklin, who oversees the Marketplace Ministries Foundation as its Chairman and CEO.
"There is no question we have been called to this great ministry. Donna and I are humbled and honored to be a part of a great legacy begun by Gil and Ann Stricklin," said Fagerstrom who has previously served as the President of Grand Rapids Theological Seminary and Executive Pastor of Calvary Church in Grand Rapids, Michigan, and has authored or compiled 14 books on Christian ministry.
"From early in our lives, we've been given great compassion for those employees who are hurting and in need in the workplace, where we all spend most of our lives. Serving with the team at Marketplace Ministries will be no different as together we explore worldwide opportunities for every chaplain to present a transformational message of love and grace to those who need the hope and help chaplains are uniquely able and positioned to provide."
His selection as Executive President and CEO to continue the expansion of workplace chaplains serving into the organization's fourth decade and beyond, first in North America and now all over the world, comes as a result of a nationwide search of top Christian leaders assisted by Carter Baldwin, a nationally-recognized search firm.
Marketplace Ministries' 3rd Generation Leadership Committee spearheaded the search effort which began many months ago in conjunction with the plan for Executive President Dick De Witt to retire and Founder Gil Stricklin to oversee Marketplace Ministries Foundation. Their unanimous decision was to welcome Dr. Fagerstrom to lead Marketplace Ministries.
"Doug Fagerstrom is God's leader for this ministry. When Marketplace Ministries was only a thought in the mind, this good and godly man was ordained to be the Third Generation Leader for Chaplains worldwide," said Gil A. Stricklin, the ministries' Founder. "I am excited and confident under Doug's leadership the ministry will accelerate to new heights of expansion, blessing thousands of more individuals worldwide."
Will Thomas, Chairman of the Governing Board for Marketplace Ministries said, "As the search firm Carter Baldwin and our Committee considered and interviewed literally hundreds of people to lead Marketplace Ministries, Doug was the solitary person that surfaced as the top of the candidate list time after time."
"Doug's demonstrated ability to inspire a team toward a goal and then achieve that goal are important qualities, complemented by his ability to relate winsomely to employees and humbly listen to other perspectives. These God-given qualities are evident at Converge and are highlighted by endorsements from his former employees, colleagues, supervisors, and mentors."
While President of Grand Rapids Theological Seminary from 2003-2009, the seminary doubled in attendance with $7 million raised for buildings and scholarships. Since coming to Converge Worldwide as Senior Vice President in 2010, he has overseen a wide range of responsibilities for the national and international church planting and supporting organization.
Fagerstrom received a Doctor of Ministries from Northern Baptist Theological Seminary in Chicago, along with a MA in Religious Education from Bethel Seminary in St. Paul, Minnesota, and a BA from Cornerstone University in Grand Rapids. Michigan.
"Dr. Douglas Fagerstrom is a quintessential leader who is forward thinking, visionary, optimistic, energetic, professional, caring, and in every way a man of impeccable character. He both listens and is an excellent communicator," added Rex M Rogers, President SAT-7 television network. "He sets goals, inspires others to aspire, respects colleagues and works well in team settings, and is an accomplished author."
Fagerstrom and his wife Donna, a dynamic worship leader and devotional speaker and writer, have one married daughter, Darci.
He will begin his tenure at Marketplace Ministries on August 1, 2015, overseeing nearly 3,000 chaplains serving over 600,000 employees and family members in 3,500 client company locations in 1,058 cities, 54 states and Canadian Provinces, along with seven international countries and commonwealths.