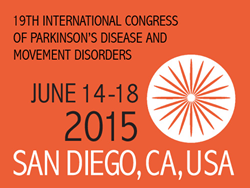 San Diego, California (PRWEB) June 18, 2015
The annual Blue Ribbon Highlights Session took place on Thursday, June 18th, during the 19th International Congress of Parkinson's Disease and Movement Disorders. This special session provides a critical review of the best poster presentations by a panel of experts, highlighting the relevance, novelty, and quality of both clinical and basic research presented by delegates.
Of the 1,473 abstracts accepted for presentation at this year's International Congress, only 19 were given this special recognition. The Blue Ribbon Highlights Session was chaired by Charles Adler, Scottsdale, AZ, USA and Marcelo Merello, Buenos Aires, Argentina, and the panel was led by Christine Klein, Lübeck, Germany, and David Standaert, Birmingham, AL, USA.
The poster categories selected include physiology, genetics, disease mechanisms, biomarkers, and new therapies. The poster numbers chosen for the 2015 Blue Ribbon Highlights include:
Physiology:

573: Optical neuromodulation of nigrostriatal pathway
1268: Optogenetic modulation of striatal dopaminergic cell translplants in Parkinsonian rats
1325: Sun exposure is an environmental factor for the development of blepharospasm
Genetics:

1177: The Contursi family 20 years later: intrafamilial variability in a kindred with A53T mutation of SCNA gene
1046: A missense mutation in RAB39B causes X-linked dominant Parkinson's disease
1154: Glucocerebrosidase activity in Parkinson's disease with and without GBA mutations
1167: The impact of rare variants in FUS and HTRA2 on essential tremor
Disease Mechanisms:

1036: CSF derived exosomal microRNA profile in patients with Parkinson's disease
1266: Enhancement of Lysosomal Biogenesis reverse A53T á-synuclein induced toxicity
909: Detection of alpha-synuclein seeding activity using a novel assay
1385: Microglial dysfunction plays a critical role in Huntington's disease pathogenesis
1014: Altered response to reward in non-manifesting carriers of the G2019S LRRK2 mutation
Biomarkers:

LBA 14: PREDICT-PD: Identifying risk of Parkinson's disease in the community
1191: A Simple Approach to Monitoring of Parkinson's Disease State Using a Smart Phone Platform
33: Gender difference in depletion of presynaptic nigrostriatal dopamine in de novo Parkinson's disease
LBA 20: Tau-PET Imaging in Progressive Supranuclear Palsy Using [18F] AV-1451
95: Metabolomic biospecimen analysis for measuring Parkinson's disease progression
New Therapies:

LBA 8: Stable levodopa plasma levels with ND0612 (levodopa/carbidopa for subcutaneous infusion) in Parkinson's disease (PD) patients with motor fluctuations
260: Inhaled levodopa (CVT-301) provides rapid improvement of OFF states in Parkinson's disease
For complete abstracts, Late Breaking Abstracts and author information, visit:
http://www.mdscongress2015.org/Congress-2015/Abstracts/Publication.htm
About the 19th International Congress of Parkinson's Disease and Movement Disorders:
Meeting attendees are gathered to learn the latest research findings and state-of-the-art treatment options in Movement Disorders, including Parkinson's disease. Over 3,500 physicians and medical professionals from more than 80 countries will be able to view over 1,500 scientific abstracts submitted by clinicians from around the world.
About the International Parkinson and Movement Disorder Society:
The International Parkinson and Movement Disorder Society (MDS), an international society of over 5,000 clinicians, scientists, and other healthcare professionals, is dedicated to improving patient care through education and research. For more information about MDS, visit http://www.movementdisorders.org.