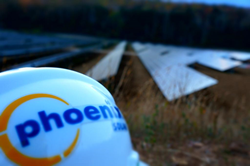 San Ramon, CA and Nashville, TN (PRWEB) June 18, 2015
Silicon Ranch Corporation, one of the Southeast's largest solar power producers, and Phoenix Solar, an international photovoltaic integrator specializing in the construction and operation of solar facilities around the globe, today announced the start of construction of a 20 Megawatt (MWAC) solar project near Hazlehurst, Georgia, about 200 miles southeast of Atlanta.
Hazlehurst Solar Farm was developed by Silicon Ranch Corporation and will serve Green Power EMC member cooperatives under a 25-year Power Purchase Agreement. Green Power EMC was created by Georgia's Electric Membership Corporations in 2001 and was the first to provide green energy in the state, beginning in 2003. This addition will nearly double its green power portfolio once the new facility is completed in late 2015.
Silicon Ranch's strategic partner, Phoenix Solar, will serve as EPC (Engineering, Procurement, and Construction) contractor for the project. Phoenix Solar's globally recognized technical expertise provides Silicon Ranch an optimized solar solution with industry leading technology to meet all technical and budget requirements. The Hazlehurst Solar Farm project extends the strategic partnership between Phoenix Solar and Silicon Ranch that has resulted in the construction of several solar power facilities in the Southeast, including the largest solar installation at a U.S. auto plant for Volkswagen in Tennessee and the 38.6 MWp Social Circle Solar Farm in Georgia.
Green Power EMC President Jeff Pratt said, "We are of course excited about the environmental benefits of project, but we are equally proud of our ability to offer the benefits of solar energy to Georgia's member customers through their participating electric cooperatives. Additionally, this project will bring economic benefits to the region, moving us even further down the road to providing sustainable opportunities for our member customers and the State of Georgia."
Matt Kisber, Silicon Ranch President and CEO, said, "As long-term owners of our projects, we take great pride in being excellent neighbours and active members in the communities where we do business and are excited about the benefits this project will bring. We have worked with Phoenix Solar many times before and are excited to break ground in Hazlehurst."
Tim P. Ryan, Chief Executive Officer of Phoenix Solar said, "With this project we will have successfully cooperated and worked together with Silicon Ranch on over 80 MWp of solar capacity in the states of Georgia, Tennessee, and Mississippi. Key to our joint success are our excellent team members within both companies whose commitment to safety, quality, and reliability has led some of the most prominent solar projects in the Southeast."
About Silicon Ranch Corporation
Silicon Ranch, based in Nashville, Tn., is one of the top 15 solar owner-operators in the U.S. Silicon Ranch is a turnkey, renewable energy provider that customizes solar solutions based upon the individual needs of its customers. Silicon Ranch's value to its customers is its ability to develop and execute solar solutions that help companies and organizations build brand equity and pursue a socially responsible community benefit while allowing those companies to focus on their core business activities. Silicon Ranch has been instrumental in helping its partners accomplish numerous "firsts" in their respective marketplaces. For more information please visit http://www.siliconranchcorp.com
About Phoenix Solar AG
Phoenix Solar AG, which has its headquarters in Sulzemoos near Munich, is an international photovoltaic system integrator. The Group develops, plans, builds and operates large-scale solar photovoltaic plants and is a specialist wholesaler for turnkey power plants, solar modules and accessories. With its subsidiaries on four continents, the company has sold solar modules with an output of well over one gigawatt worldwide since it was founded. The shares of Phoenix Solar AG (ISIN DE000A0BVU93) are listed on the official market (Prime Standard) of the Frankfurt Stock Exchange. http://www.phoenixsolar-group.com
About Phoenix Solar Inc.:
Phoenix Solar Inc. was founded in 2010 and is a wholly owned subsidiary of Phoenix Solar AG. The company is headquartered in San Ramon, CA. Core business is the engineering, procurement, construction, and operation of utility scale power plants in the United States. The company is placing a strong emphasis on safety, reliability, quality, and local execution while benefiting from the experience of over 200 projects executed with its sister companies around the world.
http://www.phoenixsolar.us
About Green Power EMC:
Green Power EMC was the first green energy provider in the state. It was created by Georgia's EMCs in 2001 and has been selling green energy since 2003. In addition to landfill gas generation, Green Power EMC obtains green power from renewable facilities all over the state, including low-impact hydroelectric, biomass from wood waste, and solar power. EMCs that own Green Power EMC serve more than 4.1 million Georgia residents.
For more information about renewable energy efforts in Georgia visit http://www.greenpoweremc.com.