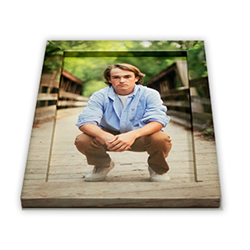 This is comparable to offering your customers a choice between an analog TV and digital TV
Chippewa Falls, WI (PRWEB) June 24, 2015
Colorpath Inc. located in Chippewa Falls, WI, has announced a new process where consumers can print photos and dimensionally form a frame around the image. The frames come in two styles so that images can be displayed on a tabletop or hung on a wall.
This means there is no longer a need to buy expensive, heavy frames for a print. Instead, a frame is printed and folded to become a three-dimensional frame around a photo. The finished product is incredibly strong, warp-resistant, recyclable, and lightweight. A 10" x 13.25" framed picture weighs less than 7 ounces.
Tyler Widen, owner and operator of Colorpath, has worked in the pre-press and printing industry for over 30 years. "This is comparable to offering your customers a choice between an analog TV and digital TV," says Tyler. "I have expanded on the current trends of made-to-order wall art by creating a three-dimensional product that is printed on a decorative board, then cut and formed into a beautiful, framed picture. The final product offers a new and unique viewing experience," Tyler says.
Tyler adds, "By printing the frame and picture together we offer picture sizes designed for today's digital cameras. Frame options can be added as quickly and conveniently as snapping a photo. Our products are packaged individually allowing the customer an easy way to share memorable moments with friends and family. This even makes it possible to print and frame today's popular selfies."
The frames come in two styles so that they can be displayed on a tabletop or hung on a wall. Wall art products come ready to mount using damage free wall strips. There are a wide variety of print sizes available on the website and the user has the option to crop and size the photo if necessary.
Colorpath encourages customers to visit their website, upload a photo and create that framed memory, http://www.colorpath.com. Additionally please visit our OWN IT contest here: https://www.smallbusinessbiggame.com/contests/sbbg/entries/447
About Colorpath Inc.
Colorpath Inc. is a printing company based in Chippewa Falls, Wisconsin. Colorpath creates printed wall art using your pictures that forms a finished product that may be three-dimensional, tiled or printed on metal. All items are incredibly strong and come ready to mount using 3M wall strips. Products and materials are 100 percent USA manufactured and recyclable.
For more information on Colorpath, Inc. please visit us online at http://www.colorpath.com or call: (715) 724-4943 or email twiden(at)colorpath(dot)com