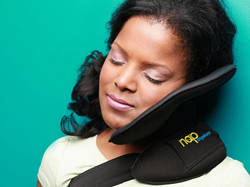 (PRWEB) June 19, 2015
"NapAnywhere" was featured on NewsWatch as part of its monthly Tech Report, which features the latest and coolest technology products available to consumers. Amanda Forstrom, a technology expert and special reporter for NewsWatch, conducted the review and shared with viewers how this device allows travelers to fall asleep.
Whether someone is catching the red-eye or traveling cross country, they will probably make time for sleep. Some people spend the extra money and buy one of those classic u-shaped pillows, but those are flimsy and offer little support. Well, NapAnywhere created the newest travel accessory for people to fall asleep on the go.
"It's really a unique head support device, because what it does that other products don't do is support the entire weight of your head," said founder and CEO Ravi Shamaiengar. "And by doing so, it allows your neck muscles to relax. Basically, the NapAnywhere consists of a strong metallic alloy core that will last for hundreds of uses. The metallic core is embedded in a soft, lightweight foam. On top of the foam is a high quality fabric that is stain resistant and antimicrobial."
The winner of Product Innovation Award of the International Travel Goods Show, NapAnywhere is designed for comfort and portability. The travel accessory comes in 5 colors: black, cobalt, pink, lime and crimson. It's currently available on their website for $59.00.
To learn more, visit napanywhere.net today.
About NewsWatch
NewsWatch is a weekly 30-minute consumer oriented television show that airs on the Discovery Channel and ION Network. NewsWatch regularly features top technology products and services, mobile applications for iOS, Android, and Windows devices, unique and beautiful travel destinations around the world, health and medical tips, and entertainment interviews on the show. NewsWatch airs on the Discovery Channel at 7:00 – 7:30 AM ET/PT.
NewsWatch is located in the greater Washington, DC area and has been on air for over 25 years. For more information or to watch the most recent episode, visit http://newswatchtv.com/tech-report.html.