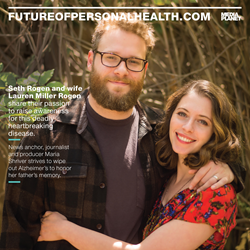 Alzheimer's disease affects millions of people around the world
New York, NY (PRWEB) June 19, 2015
With Alzheimer's being the nation's sixth-leading cause of death and with no cure and a rapidly increasing number of people suffering, the dedicated companies, organizations, researchers and support groups need to band together to make an impact and help those who are suffering.
The print component of "Fighting Alzheimer's" is distributed within this weekend's edition of USA Today in Dallas, New York, Los Angeles, Washington DC/Baltimore, Chicago, South Florida and Boston, with a circulation of approximately 450,000 copies and an estimated readership of 1.3 million. The digital component is distributed nationally, through a vast social media strategy, and across a network of top news sites and partner outlets. To explore the digital version of the campaign, click here.
This edition of "Fighting Alzheimer's" was made possible with the support of Transition Therapeutics, a biopharmaceutical company developing novel therapeutics for disease indications with large markets. The company's lead CNS drug candidate is ELND005 for the treatment of agitation and aggression associated with Alzheimer's disease.
Dr. Susan Abushakra, the Chief Medical Officer at Transition Therapeutics says, "Alzheimer's disease affects millions of people around the world. Because of the aging population, the prevalence of AD is increasing, making it a major public health issue. It is well known that AD results in a relentless decline in memory, language and mental abilities. It is less well known that AD also leads to behavioral dysfunction and psychiatric symptoms, such as irritability, anxiety, agitation and aggression. Agitation and aggression are especially disruptive and potentially harmful to patients. They are also a major burden for their families and caregivers. At Transition Therapeutics we are focused on finding effective and safe treatments for these difficult symptoms.... and are committed to developing ELND005 for this purpose."
This campaign was made possible with the support of the Alzheimer's Association, USAgainstAlzheimer's, Caregiver Action Network, National Institute on Aging and many more.
About Transition Therapeutics
Transition is a biopharmaceutical development company, advancing novel therapeutics for CNS and metabolic disease indications. The Company's wholly owned subsidiary, Transition Therapeutics Ireland Limited is developing CNS drug candidate ELND005 for the treatment of Alzheimer's disease and Down syndrome. Transition's lead metabolic drug candidate is TT401 (LY2944876) for the treatment of type 2 diabetes and accompanying obesity. For additional information about the Company, please visit http://www.transitiontherapeutics.com.
About Mediaplanet
Mediaplanet is the leading independent publisher of content-marketing campaigns covering a variety of topics and industries. We turn consumer interest into action by providing readers with motivational editorial, pairing it with relevant advertisers and distributing it within top newspapers and online platforms around the world.
Press Contact:
Jessica Guggenheimer
Senior Publisher
Jessica.guggenheimer(at)mediaplanet(dot)com
646-922-1401
Patrick McKillop
Director of Investor Relations
pmckillop(at)transitiontherapeutics(dot)com
339-788-4962