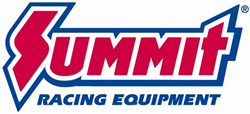 Tallmadge, OH (PRWEB) June 30, 2015
The 1978-96 full size Bronco can be built to handle the places 98% of people go off-roading. Based on Marc Sorger's 1984 Bronco race truck, The Summit Racing Desert Bronco Parts Combos are a great starting point for building a very off-road capable Bronco suitable for street use as well.
Off-road enthusiasts can see the build at Summit Racing's blog, OnAllCylinders.
331 Long Block Combo
Marc replaced the truck's tired 302 with a 331 cubic inch engine making north of 350 horsepower. Based on a 5.0L block and a Scat rotating assembly, the engine features a Ford Performance X303 roller cam factory heads upgraded with Ford Performance 1.460 inch valve springs, and a Summit Racing Stage 1 intake manifold with a 750 cfm Holley double pumper carburetor.
331 Ignition Combo
The Bronco's 331 cubic inch small block gets its spark from an MSD Pro-Billet distributor, 6AL ignition box, Blaster coil, and a set of Ford Performance wires.
331 Completer Combo
This combo contains many of the parts Marc needed to finish the 331 small block, including a Summit Racing electric fuel pump and shorty headers, and AFCO air cleaner housing, and assorted fasteners.
Suspension Combo
The Skyjacker suspension modifications are basic, but provide plenty of travel—necessary for high speed desert racing. The Bronco rolls on Pro Comp Xtreme Rock Crawler wheels and BFGoodrich All Terrain TKO tires.
Axle Combo
Yukon Gear & Axle made everything needed to upgrade the Dana 44 TTB front and Ford 8.8 inch rear axles, including Grizzly lockers, 4.56 gears, and Hardcore front locking hubs.
Interior Combo
The Bronco's interior is all business—a pair of Summit Racing poly race seats, G-FORCE 5-point harnesses and window net, a Longacre steering wheel, and a Summit Racing 5 inch tach. Marc also repaired the floor with a Sherman patch panel and covered everything with Herculiner bed liner.
Summit Racing Equipment
http://www.SummitRacing.com
1-800-230-3030