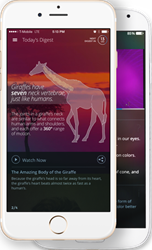 "Our mission is to make learning more accessible and easy" Gabe Vehovsky, CEO, Curiosity.com
Chicago, IL (PRWEB) June 22, 2015
Since raising a $6M Series A round of funding in November 2014, Curiosity.com has grown to 20 employees and an international audience of millions. Today it builds on its mission to inspire people to learn something new every day by launching its first iPhone App. Android and iPad versions are coming soon.
A key part of the app experience is the Daily Curiosity Digest. Every day Curiosity's editors comb through the site's collection of more than 600,000 videos, playlists, and courses to find the top five things to learn. They distill these topics down into a series of thought-provoking facts, insightful quotes, and illuminating visuals that feed your fascination. The digest ignites curiosity, while associated videos and reference materials provide a resource to dig deeper for more info.
The app is powered by the same technology behind Curiosity.com, which takes the work out of lifelong learning by curating the web's best learning experiences in an environment designed specifically for knowledge exchange. The relevance engine powering both desktop and mobile app goes well beyond contextual relevance to create adjacent and even surprisingly relevant associations. As a result, users can get lost in dynamic learning paths tailored to their individual interests and will often find themselves fascinated by things they didn't even know they wanted to learn about!
With millions of people learning from Curiosity's smart memes and ever-expanding collection of videos, Curiosity's model is proving effective. Every day its growing audience seizes the opportunity to follow topics they love and discover things they never knew. By developing a dedicated mobile app, Curiosity has put this experience in your pocket so that it can inspire you to learn something new every day.