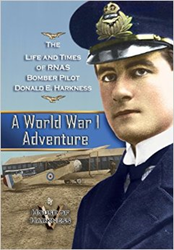 "A World War I Adventure" is a timely reminder of the dangers faced and the sacrifices made by the brave young men who flew and fought to protect freedom in the War to End All Wars
QUEENS, N.Y. (PRWEB) June 22, 2015
Christopher, Jeffrey, Bruce, and Timothy Harkness never knew their grandfather, so they were pleasantly surprised when their mother found his untouched diaries hidden in the bottom of an old display case. The information contained within those diaries – a firsthand account of World War I – astounded them.
Donald E. Harkness, Sr. was a New Zealand bomber pilot for England's Royal Naval Air Service during WWI. In the new book, "A World War I Adventure," his descendants have compiled his wartime diaries, letters, and original photographs, providing a compelling look inside the life of an early aviator and the role he played in the then-new form of aerial bombing during one of the deadliest wars in history.
"We felt it was important to publish his story for it contains never before printed descriptions and photos of a bloody war that he carefully recorded for his family, and the world, to remember," Bruce Harkness said.
As the world reflects upon the First World War's centennial, "A World War I Adventure" is a timely reminder of the dangers faced and the sacrifices made by the brave young men who flew and fought to protect freedom in the War to End All Wars.
For more information, visit http://www.aww1adventure.com.
A World War I Adventure
By House of Harkness
ISBN: 978-1-4969-1409-5
Available in softcover, hardcover, e-book
Available on Amazon, Barnes & Noble and AuthorHouse
About the Author
"A World War I Adventure" is the result of a collaborative effort by RNAS Bomber Pilot Donald E. Harkness, Sr.'s descendants: his son, Donald E. Harkness, Jr., and his grandsons, Bruce, Jeffrey, Timothy, and Christopher. They decided to publish his stories after finding that his diaries were full of adventure, unusually complete, and well written.
# # #
**FOR IMMEDIATE RELEASE**
For review copies or interview requests, contact:
Drew Tharp
317.602.7137
dtharp(at)bohlsengroup(dot)com