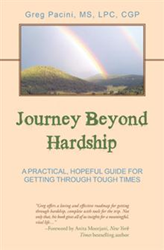 "Hardship is part of the human condition," Pacini said. "But so is the human spirit and ability to overcome."
ST. LOUIS, Missouri (PRWEB) June 19, 2015
From grief to unemployment, from infidelity to prejudice, from natural disasters to emotional abuse, to simply feeling empty, everyone faces hardship at some point. The way one moves beyond it is the primary focus of Greg Pacini's new book, "Journey Beyond Hardship".
Pacini has been in the psychotherapy profession for 35 years and runs his own private practice as a counselor. He has led over 3500 group therapy sessions for hardship survivors. Now, his new book offers a compelling and practical manual for managing life's most difficult times, straight from an expert in the field.
"Hardship is part of the human condition," Pacini said. "But so is the human spirit and ability to overcome."
Two well-known New York Times bestselling authors, Anita Moorjani and Larry Dossey, MD, endorse Pacini's book.
"Greg offers a loving and effective roadmap for getting through hardship, complete with tools for the trip," Moorjani said. "Not only that, his book gives all of us insights for a meaningful, vital life."
Pacini also authored the successful book, "Journey Beyond Diagnosis."
In his new book, Pacini details the process of recovery from hardship. In addition, he outlines the biology of hope and offers concrete tools for responding to anxiety, sleeplessness and relationship tensions, along with other expressions of his expertise.
Journey Beyond Hardship: A Practical, Hopeful Guide for Getting Through Tough Times
By Greg Pacini, MS, LPC, CGP
Available in softcover, hardcover, e-book
Available on Amazon, Barnes & Noble and Balboa Press
About the author
Greg Pacini is a Licensed Professional Counselor and Certified Group Pschotherapist with 35 years of experience. He is a speaker, consultant, and psychotherapist in private practice providing dream work, spiritual quest support and help managing hardship, anxiety and depression. Visit him at http://www.gregpacini.com and on Facebook at Greg Pacini, Counselor, LLC.
# # #
For review copies or interview requests, contact:
Craig Cainkar
(317) 602-7137
ccainkar(at)bohlsengroup(dot)com