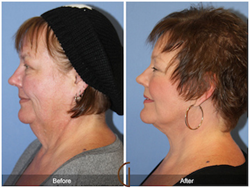 This acquisition means the addition of KYBELLA™ injection, an FDA approved non-surgical treatment for contouring submental fullness
Newport Beach, CA (PRWEB) June 19, 2015
Allergan, plc, the global pharmaceutical company behind well-known facial aesthetics such as BOTOX® and JUVEDERM®, has recently announced its acquisition of KYTHERA Biopharmaceuticals. KYTHERA is a biopharmaceutical company which has kept much of its focus on discovering, developing and commercializing prescription products specifically for the aesthetic medicine market. This acquisition means the addition of KYBELLA™ injection, an FDA approved non-surgical treatment for contouring submental fullness, otherwise known as double chin. Dr. Kevin Sadati, FAACS, lead facial plastic and reconstructive surgeon for the Gallery of Cosmetic Surgery, has recently discussed the impact this acquisition will have on facial aesthetics.
"Allergan has proven to be an incredibly reputable pharmaceutical company that only offers the best in facial aesthetics," Dr. Sadati explained. "Products such as BOTOX® and JUVEDERM® have proven to be incredibly successful in the treatment of wrinkles and folds. KYBELLA™ seems to be moving towards that level of success."
KYBELLA™ is the only non-surgical, clinically proven treatment for excess fat under the chin, most commonly known as double chin. Dr. Sadati went on to explain that Allergan has a reputation for maximizing the potential for aesthetic products such as KYBELLA™, making their acquisition of KYTHERA a big win for facial plastic surgery.
Dr. Sadati is a renowned facial plastic and reconstructive surgeon who specializes in minimally invasive nasal and facial surgery, including lower face and neck lifts. Board certified in otolaryngology and facial plastic surgery, Dr. Sadati has become highly experienced in working with and contouring the structural composition of the nose, cheekbones, ears, chin, forehead, eyes and neckline. He brings an artistic background as a sculptor and painter, which enables him to bring natural looking results to the faces of his patients. The majority of Dr. Sadati's surgeries are performed under local anesthesia or twilight sedation, allowing for his patients to undergo minimally invasive surgery without using general anesthesia. This eliminates the expense, recovery time and overall risk generally associated with general anesthesia. Dr. Sadati also performs all surgeries at his own facility, the Gallery of Cosmetic Surgery. This allows his patients to receive personalized care without having to deal with hospitals or other surgical centers.
Dr. Kevin Sadati is board certified by the American Osteopathic Board of Otolarynology Head and Neck Surgery (AOBOO-HNS) and one of the top facial plastic and ENT (ear, nose and throat) surgeons in California. He specializes in minimally invasive facial and nasal surgery and has over a decade of experience in his field. Along with being a member of the prestigious American Academy of Facial Plastic & Reconstructive Surgery (AAFRS), Dr. Sadati is also a Diplomate of the American Board of Cosmetic Surgery (ABCS). Through his extensive experience and skill he has become one of the most sought after Newport Beach and Orange County plastic surgeons for facelifts, rhinoplasty, liposuction and sinus surgery.
For more information on the Gallery of Cosmetic Surgery, Dr. Sadati and the Allergan products they provide, visit their website.
Sources: http://www.nytimes.com/2015/06/18/business/dealbook/allergan-to-buy-kythera-biopharmaceuticals-for-2-1-billion.html