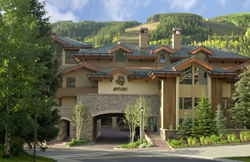 "Vail in summer is a vacation mecca," says Antlers at Vail GM Rob LeVine.
(PRWEB) June 19, 2015
For 43 years, the Antlers at Vail, has been known for serving its guests in a friendly family-style environment, with staff members using their local knowledge to recommend ideas for getting the most out of a Vail, Colo., vacation. Now the Antlers – recently inducted into the TripAdvisor® Certificate of Excellence Hall of Fame – is providing the benefit of its expertise to anyone interested in visiting its Colorado mountain resort home by offering a tip sheet on the Top 10 Reasons to Visit Vail this Summer.
Conveniently located just 150 yards from the Vail Gondola, the Antlers at Vail features guest suites with fully-equipped kitchens, fireplaces and outdoor balconies with barbeques, as well as an outdoor swimming pool and hot tubs overlooking Gore Creek. Combining the spacious, homey atmosphere of condominiums with the service of a top hotel and an unusually large list of unique complimentary amenities, the Antlers encourages guests to play all day and come back for R&R in the place so many call their favorite Colorado home base.
"Vail in summer is a vacation mecca," says Antlers at Vail General Manager Rob LeVine. "From our internationally known cultural events – many of them free and enjoyed in the open air – to family-friendly hikes among wildflowers to more challenging backcountry adventure and the dining and shopping experiences available just steps from the Antlers, it's hard to limit our recommendations to just 10 favorites. We suggest Vail visitors use this list as a jumping off point – and if you need help creating your personal itinerary, just ask us!"
The full Top 10 tip sheet of Antlers at Vail recommendations for summer fun can be found on the hotel's website here: A sampling of the list's fun-for-all activities includes:
Vail on 2 Wheels. Vail Resort is home to all levels of mountain biking and road biking trails for every kind of biker. Eagle County offers a stunning 58 miles of paved recreational paths for biking. To sample portions of the Vail bike path, or for a quick ride to a local restaurant or other summer activities, the Antlers at Vail provides a selection of complimentary cruiser bikes for guests to use.
Say Bravo! Held this summer from July 1 – Aug. 6, Bravo! Vail is the only festival in North America to host three of the world's finest orchestras in a single season. An unparalleled live musical experience in beautiful mountain scenery, this is a highly anticipated event with a rich schedule of complimentary and ticketed events. And for an "insider" experience of the festival, Antlers at Vail guests can take advantage of the hotel's Bravo! Like a Local package.
Hit the Club. The Golf Club! With 17 championship golf courses within a 38-mile radius, half of them open to the public, Vail Valley is a links-lover's dream. To help create the perfect golfing getaway, Antlers at Vail's expert staff – including Antlers GM Rob LeVine, an avid golfer with firsthand experience of legendary courses from Edinburgh to Pebble Beach – can recommend the perfect course, as well as arranging tee times.
Gone Fishing. Vail offers a variety of opportunities for anglers to enjoy the region's many lakes and rivers for a scenic fishing float trip or for fly fishing. Those interested in a guided fly fishing trip with professionals can check out services from Fly Fishing Outfitters, who have also partnered with Antlers for a "Flights & Flies" stay-and-play package for fall. Or for an ad hoc "fish with a local" opportunity, take advantage of the several Antlers staff members who love to share their knowledge of fishing – recently mentioned in a Denver Post article on experiential travel.
Go from Farm to Table. Enjoy summer Sundays at the outdoor Vail Farmers Market, which features over 135 tents with vendors offering deliciously unique prepared food, fresh produce, clothing and accessories along with live entertainment – including no-admission performances by the Vail Jazz Festival. And Antlers at Vail guests can pick up the fixings for a DIY meal cooked in the condominium hotel's fully equipped kitchens.
About the Antlers at Vail
The Antlers at Vail hotel was recently inducted into the TripAdvisor® Certificate of Excellence Hall of Fame for earning a Certificate of Excellence for five consecutive years, and was also awarded TripAdvisor GreenLeader status. Providing a relaxed Vail lodging experience in a fabulous mountain setting, the Antlers offers condominiums ranging from studio suites up to four-bedroom penthouses. Every unit at the Antlers enjoys a fully-equipped kitchen, fireplace, private balcony, daily housekeeping service, and complimentary wi-fi and parking. The Antlers has an A+ location on the banks of Gore Creek, just steps from restaurants, galleries, shops, free Vail town shuttle and the Lionshead Gondola. And Antlers' staff is always ready to help with – and offer an insider expert take on – dinner reservations, activities or any other guest request. For more information, call 1-800-843-8245 or visit http://www.antlersvail.com.
Media Contact: Anne Parsons, WordenGroup Public Relations, anne(at)wordenpr(dot)com, 303.777.7667