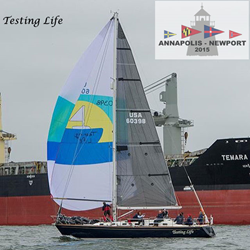 This principle of "young people development" clearly aligns with the management directive of Whitehouse Labs
New York, NY (PRWEB) June 25, 2015
The employees and management team are excited to announce that the "Testing Life" sailing team, skippered by company founder Brian Mulhall recently completed a highly successful campaign as part of the 2015 Annapolis to Newport Sailboat Race. The sailing vessel, aptly named "Testing Life" walked away from the award ceremony with multiple awards to include:

First In Class Out of the Bay
First in Class Overall
Third Place Overall for PHRF (rated boats)
Sixth Overall on Line Honors
Youth Challenge Award
While the entire Whitehouse Labs team and sailing crew members are excited about the success achieved, the most significant award was clearly the Youth Challenge Trophy. To qualify for this, a competing boat must have at least three sailors under the age of 25 as part of the racing crew. In its commitment to introduce new young people to the sport of offshore sailing, the Testing Life team recruited three college aged sailors to join the team. Of the three sailors, two had no offshore experience and had never competed in an ocean based race. This principle of "young people development" clearly aligns with the management directive of Whitehouse Labs – find and develop outstanding young people to become future leaders of Whitehouse Labs and industry in general.
Director of Corporate Development Therese Abrenica commented, "We are all excited about our support and involvement in this unique event and the fact that the requirements of offshore sailboat racing so closely align with the type of work we do - traits like precision to detail, dedication and pure hard work – are evident in both venues. The tie in to the strategic initiatives we have on young people development make it all the more worthwhile."
The Annapolis – Newport race is a 460 mile open ocean race that is held even other year and features two of the most attractive sailing venues in the world. The award ceremony was held at the world famous New York Yacht Club in Newport, Rhode Island. The Whitehouse Labs team is clearly visibly on any race course due to its very unique and custom made "Testing Life" spinnaker.
About Whitehouse Laboratories
The Testing Partner to Manufacturing Companies, Whitehouse Labs is an FDA regulated, DEA Licensed, ISO 17025 and ISTA certified contract service provider to the pharmaceutical, medical device, personal and consumer product industries. Whitehouse Laboratories offers analytical services for the testing of materials, finished products, container and package systems that enable our clients to meet and exceed the required quality standards established by the key regulatory agencies.