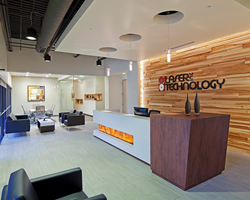 We have the underlying structure to continuously improve our business processes so our customers are receiving the best value for their money.
Centennial, Colorado (PRWEB) July 20, 2015
Laser Technology, Inc. (LTI), the leader in laser-based measurement solutions for traffic safety, professional measurement and industrial applications is pleased to announce that it has achieved ISO 9001:2008 recertification for its quality management system implemented at its corporate headquarters in Centennial, Colo. The scope of LTI's recertification, issued through the Denver-based registrar Platinum Registration, Inc., includes the design, development and service of applied measurement solutions.
"This is an important milestone for Laser Technology," says ISO Executive Representative Eric Miller. "It's a rigorous process to become ISO 9001 certified. Our staff worked very hard with Platinum Registration's auditors to demonstrate that we meet the requirements of the Standard. Not only does that make us feel confident that we produce products with consistent quality, it assures our customers that we have a completely transparent and robust quality management process. It also confirms that we have the underlying structure to continuously improve our business processes so our customers are receiving the best value for their money."
LTI's quality policy states, "Quality through Innovation and Dedication." The Company achieves this policy through adhering to the following quality objectives:

LTI customers have the right information needed to make an informed buying decision
LTI customers are shipped exactly what they ordered
LTI customers have a 100% positive product experience
LTI customers have clear and concise product documentation
LTI products have consistent and sustained performance
LTI product service and support are effective and timely
Because LTI services customers worldwide, an ISO certification is essential to its business strategy, as some organizations will not even consider doing business with U.S. companies unless they are ISO certified. This recertification confirms the company's ongoing commitment to our Quality Management System which provides the framework for designing and manufacturing consistent, high-quality products for our customers all over the world.
About Laser Technology, Inc.
Laser Technology Inc. (LTI) is a company devoted to creating innovative laser-based speed and distance measurement instruments. Founded in 1986, LTI maintains an intense focus on providing laser measurement technologies that address real-world needs and applications for customers around the globe. Some of the industries served by LTI's innovative products include speed enforcement, accident investigation, forestry, mining, utilities, GIS mapping and surveying, traffic engineering and plant management.
About ISO 9001:2008 Certification
Established by the International Organization for Standardization, ISO 9001:2008 is recognized as the worldwide standard for quality management systems and practices. The standards body provides requirements, guidance and tools for companies and organizations that want to ensure that their products and services consistently meet customers' requirements and that quality is consistently improved. It can be used by any organization, large or small, regardless of its field of activity. ISO 9001:2008 has been implemented by over one million companies and organizations in over 170 countries.
About Platinum Registration
Platinum Registration is a Denver-based, ANSI-ANAB-accredited ISO 9001 management system certification body. Over one million organizations worldwide are independently certified, making ISO 9001 one of the most widely used management tools in the world today. Platinum's clients include service and manufacturing organizations in North America and Canada. Platinum's audits ensure that clients conform to international and national standards, ensuring customer satisfaction and positioning them for growth in the marketplace.