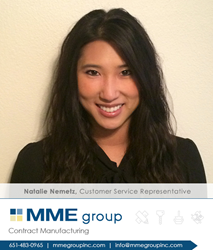 In Natalie's short time at MME group, she's impressed us with her ability to learn processes, programs and products.
St. Paul, MN (PRWEB) June 18, 2015
Nemetz handles customer communication and acts as a liaison between customers and departments at MME group. She provides account management services including receiving purchase orders and report reconciliation, creating sales order acknowledgments, and providing scheduled shipment reports.
Nemetz is a graduate of St. Mary's University in Winona, Minn. After graduation, she worked several years in various customer service positions. "I worked in several positions where I needed to adapt and be flexible. My critical thinking and problem solving skills were frequently challenged, and my customer service skills soared," said Nemetz. Prior to joining MME group, she was a research manager at a marketing research company. She provided web analytics and data to Fortune 500 companies. After the company consolidated to Florida, Nemetz found her next opportunity with MME group.
With a smile on her face, Schumacher boasts about the addition of Nemetz. "Natalie is a ray of sunshine. In her short time at MME group, she's impressed us with her ability to learn processes, programs and products." Nemetz's personality has won-over her colleagues as well. "Natalie has an empathetic nature and is a social butterfly. She uses those strengths to breakdown communication barriers between employees and customers alike," adds Schumacher.
You can reach Natalie Nemetz at (651) 483-0965 ext. 229 or nnemetz@mmegroupinc.com.
About MME group
MME group is a leading contract manufacturer of small to medium-sized parts and products. Services include: Full product development, tooling, molding and assembly. We provide program, quality, supply chain and inventory management.
With some of the fastest turnaround times for contract manufacturing companies in the United States, MME group's speed to market is unmatched providing you with a competitive advantage on low cost manufacturing.
MME group provides the best solutions to fit your needs with unmatched care, quality systems and technical expertise. Make MME group your contract manufacturing partner for short lead times, highest quality and cost competitiveness. Visit mmegroupinc.com.