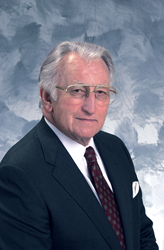 Pomona, California (PRWEB) June 18, 2015
Western University of Health Sciences Founding President Philip Pumerantz, PhD, received the EY Entrepreneur Of The Year® 2015 Award in the Health Care Services category in Greater Los Angeles.
The award recognizes outstanding entrepreneurs who demonstrate excellence and extraordinary success in such areas as innovation, financial performance, and personal commitment to their businesses and communities.
Dr. Pumerantz was selected by an independent panel made up of leading founders and CEOs, private equity and venture capital investors and other regional business leaders. The award was presented at a black-tie awards gala event on June 16 at the Beverly Hilton Hotel in Beverly Hills, California that featured a keynote address by Los Angeles Mayor Eric Garcetti and was hosted by Emmy award-winning news anchor Christine Devine.
Dr. Pumerantz said he felt honored by the recognition.
"It means a number of peers, community leaders and others recognize the work the University does and what we've accomplished," he said.
When asked what three words describe him as an entrepreneur, Dr. Pumerantz replied, "Audacious yet wise." His hope for what he wants his legacy to be is "that this University, and its humanistic mission to educate new generations of healers, will endure."
Dr. Pumerantz is set to retire Sept. 8, 2015 after serving 38 years as president. His first day of office at the College of Osteopathic Medicine of the Pacific (COMP) was Sept. 6, 1977. COMP's first class of 36 students was enrolled in fall 1978, roughly one year after he and his first employee – his secretary – opened the doors to a small office on Second Street in Pomona, California.
COMP was restructured into Western University of Health Sciences in 1996. WesternU now has more than 3,900 students enrolled in nine colleges and 12,435 alumni.
Now in its 29th year, the EY Entrepreneur Of The Year program has honored the inspirational leadership of such entrepreneurs as Howard Schultz of Starbucks Coffee Company, Pierre Omidyar of eBay Inc., and Mindy Grossman of HSN. Recent U.S. national award recipients include Reid Hoffman and Jeff Weiner of LinkedIn; Hamdi Ulukaya, founder of Chobani; and 2014 winner Dr. David Hung, President, CEO and Chairman of Medivation.
EY Entrepreneur Of The Year is the world's most prestigious business award for entrepreneurs. The unique award makes a difference through the way it encourages entrepreneurial activity among those with potential and recognizes the contribution of people who inspire others with their vision, leadership and achievement. As the first and only truly global award of its kind, Entrepreneur Of The Year celebrates those who are building and leading successful, growing and dynamic businesses, recognizing them through regional, national and global awards programs in more than 145 cities in more than 60 countries.
Click here to read more from EY's website: http://www.ey.com/US/en/Newsroom/News-releases/news-ey-announces-award-recipients-for-the-eoy-2015-awards-program-in-greater-los-angeles
As a Greater Los Angeles award recipient, Pumerantz is now eligible for consideration for the Entrepreneur Of The Year 2015 national program. Award recipients in several national categories, as well as the Entrepreneur Of The Year National Overall Award recipient, will be announced at the annual awards gala in Palm Springs, California, on November 14, 2015. The awards are the culminating event of the EY Strategic Growth Forum®, the nation's most prestigious gathering of high-growth, market-leading companies.
###
About Western University of Health Sciences
Western University of Health Sciences (http://www.westernu.edu), located in Pomona, Calif. and Lebanon, Ore., is an independent nonprofit health professions university, conferring degrees in biomedical sciences, dental medicine, health sciences, medical sciences, nursing, optometry, osteopathic medicine, pharmacy, physical therapy, physician assistant studies, podiatric medicine and veterinary medicine. WesternU is home to the Patient Care Center, where the best in collaborative health care services is offered. The Chronicle of Higher Education named WesternU a Great College to Work For in 2012, 2013 and 2014.
About EY's Strategic Growth Markets practice
EY's Strategic Growth Markets (SGM) practice guides leading high-growth companies. Our multidisciplinary teams of elite professionals provide perspective and advice to help our clients accelerate market leadership. SGM delivers assurance, tax, transactions and advisory services to thousands of companies spanning all industries. EY is the undisputed leader in taking companies public, advising key government agencies on the issues impacting high-growth companies and convening the experts who shape the business climate. For more information, please visit us at ey.com/us/strategicgrowthmarkets, or follow news on Twitter @EY_Growth.