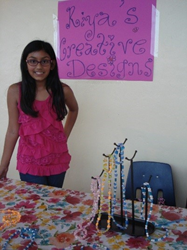 Stratford students bring their passion and skills to leadership roles inside and outside of the classroom.
Saratoga, California (PRWEB) June 19, 2015
The Leukemia & Lymphoma Society has commended Stratford School students for raising over $123,000 for charities in the Bay Area and around the world. Students raised funds and awareness through Stratford Cares, a school-wide program that encourages students to become responsible citizens by supporting a Bay Area or global charity of their choice.
Citizenship is one of the Six Pillars of Character taught at Stratford School to help develop empathy and values in students. The goal for Stratford Cares is for each Stratford student to become a responsible citizen who is a steward of the environment and actively contributes to his or her local and global communities.
Students and Stratford Cares raised funds and awareness for the following national and international charities:

American Cancer Society
American Heart Association
American Red Cross
Coins for Cancer
Heifer International
Leukemia and Lymphoma Society
Lucile Packard Children's Hospital
Michelle Monje Research Lab at Stanford
National Multiple Sclerosis Society
Pennies for Patients
Ronald McDonald House
Save our Children
Second Harvest Food Bank
St. Jude Children's Research Hospital
UNICEF
Stratford Cares also donated a total of 15,200 pounds of food, 300 toys, 60 pairs of shoes, 50 coats, 50 pajamas, and 4 bins of birthday decorations to the following charities in 2015:
Alameda County Food Bank
Contra Costa Food Bank
Family Giving Tree
My New Red Shoes
Party Child
Sacred Heart Community Service
Scholastic
Second Harvest Food Bank
Tri-City Volunteers
"As proud as we are of our students' academic achievements, we take the most pride in watching them grow into caring, well-rounded young adults who give back to their communities through compassionate service initiatives. Stratford students bring their passion and skills to leadership roles inside and outside of the classroom," said Barbara Timm-Brock, COO of Stratford School. "We are proud to see them extend Stratford's uplifting culture to the global community."
About Stratford School
Established in 1999, Stratford School is a leading independent private school founded on the belief that education is a significant influence in the life of a child. Stratford offers an accelerated curriculum particularly in the areas of STEAM (Science, Technology, Engineering, Arts, and Mathematics) that incorporates music, physical education, and social skills development. Stratford's goal is to prepare and mentor students for admission to private high schools and colleges or advanced placement in public schools. All students are provided the necessary tools to excel, and are encouraged to actively participate in leadership, community service, and extracurricular activities.