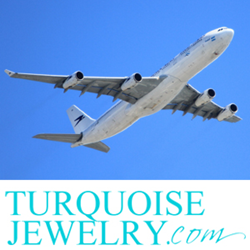 TurquoiseJewelry.com offers tips to help make decisions that will showcase jewelry and keep it safe from prying hands.
(PRWEB) June 20, 2015
As the summer months roll by, many vacation goers are often left with the conundrum of what to take on vacation and what to leave behind. TurquoiseJewelry.com offers tips to help make decisions that will showcase jewelry and keep it safe from prying hands.
When traveling with jewelry, the cost of the jewelry can be a determining factor in whether it goes or stays. "While some argue that expensive jewelry should stay at home, others argue that you should be able to wear your best while on vacation," explains TurquoiseJewelry.com spokesperson Jack Burch. "Aside from a monetary value, there is also an intrinsic value to jewelry. If travelers take additional precautions while they are on vacation, any jewelry piece can go with them."
Once the jewelry has been selected, the proper care while packing each piece can not only aid in keeping it safe but also protected. As each piece is being packed individually, a list can be made to detail what is being taken on vacation. This list can be copied and used again prior to return to ensure each piece is returned with the traveler. TurquoiseJewelry.com encourages documenting all valuables taken while travelling.
In order to safeguard the jewelry arriving at its intended location, many travelers will take the jewelry with them onto the plane or commercial transportation. The worst experience for a traveler is to have lost luggage, especially with valuable jewelry inside. Although lost baggage claims have dropped significantly in the last few years, according to an article published at the beginning of last summer by The Wall Street Journal, it is still up to each traveler to decide whether on-board is the best place for their valuables.
After travelers have reached their destination, it is often easy to group all jewelry together in one place for easy retrieval throughout their stay. "We advise strongly against this. If someone was to break into your hotel room and has limited time, they find one piece and they've found them all," adds Burch. "When you arrive, separate your jewelry. Keep your go-to earrings in your purse if you're not wearing them, place bracelets in a makeup bag, watches inside zipped pockets of suitcases, or anywhere else that you can access without grouping your entire collection together." Most hotels offer the services of using their on-site safes for guests who want to secure their valuables during their stay. Travelers can research ahead of time which hotels offer this service to help determine their vacation plans.
While on vacation travelers should remain aware and attentive to their environment. The same precautions that are taken to avoid theft of purses or wallets should be taken to avoid curious eyes taking stock of jewelry. The environment will also provide clues for the traveler to understand what is appropriate to wear that will be less of a target. Traveling to areas of a city where a stark contrast in economic status is evident may not be the best place to wear a diamond ring or necklace.
"We recommend having your jewelry insured as well," notes Burch. "All valuables should be insured in case of theft or damage. Research your renter or home owner policy to see if it covers jewelry. While we want everyone to think less of possible theft during vacation and enjoy their time away from home, we also want to ensure that our customers and all travelers come home with great memories instead of heartache and stress."
View sterling silver jewelry set with gemstones such as turquoise, coral, and opal at TurquoiseJewelry.com.
About TurquoiseJewelry.com
TurquoiseJewelry.com is the online leader in turquoise jewelry and accessories including necklaces, rings, earrings, pendants, bolo ties, and more. TurquoiseJewelry.com carries modern twists on Southwest styles as well as authentic Navajo, Hopi, and Zuni pieces made by Native American artisans. For more information, visit TurquoiseJewelry.com.