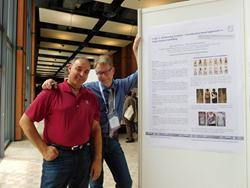 The goals of our program are to educate, enable, and empower the scoliosis patient.
Boston, MA (PRWEB) June 30, 2015
Dr. Marc Moramarco presented the growing body of evidence in support of three-dimensional treatment for scoliosis at the ISPO 2015 World Congress. His presentation was one component of a three-dimensional instructional course on conservative scoliosis treatment according to the Schroth Best Practice® program.
Dr. Moramarco's remarks focused on evidence-based research of conservative methods which have now been shown to have a positive influence on Cobb angle, spinal function, vital capacity, chest expansion, and postural appearance. Efficacy of scoliosis-specific rehabilitation therapy has now been validated by Level 1 evidence by two randomized control studies affirming the use of the Schroth method (Kuru et al, 2015) and self-correction (Monticone et al. 2014).
Three-dimensional self-correction is the necessary foundation of Schroth Best Practice® scoliosis exercises. This approach helps promote pelvic recompensation, address thoracic and lumbar rib prominences and restore the sagittal profile. Dr. Weiss has updated and amended the Schroth Method of his mother (Christa Lehnert-Schroth, PT) and grandmother (Katharina Schroth). Patients now learn to incorporate corrections during the course of daily activities and apply 3-D Made Easy® and Power Schroth exercises for a more user-friendly experience.
Dr. Hans-Rudolf Weiss and Maksym Borysov, PT, CPO of Ukraine conducted the other parts of the course. Dr. Weiss's remarks were focused on his asymmetric, Schroth-compatible, CAD/CAM produced Cheneau-style Gensingen Brace®, which is used internationally. Asymmetric braces for scoliosis are gaining popularity worldwide. The widely used Boston Brace, a symmetric brace, has been found to halt curve progression in 70% of patients who are compliant with brace wear. In contrast, the asymmetric Gensingen Brace® by Dr. Weiss has a greater than 90% success rate in terms of halted progression. The Gensingen Brace® attempts to improve postural appearance and to reduce curvature via overcorrection for those fit prior to a growth spurt. Other differences are that it addresses the sagittal profile, is front-closing and lighter-weight for improved comfort and independence. Its strategically placed voids allow for corrective rotational breathing - making it Schroth method compatible.
Dr. Marc Moramarco is an expert in the Schroth method for scoliosis. He is an international lecturer with an exclusive focus on nonsurgical treatment of scoliosis for adolescents and adults. He is a coauthor of Schroth Therapy: Advancements in Conservative Scoliosis Treatment, a training manual for practitioners of Schroth Best Practice, recently released on Amazon.