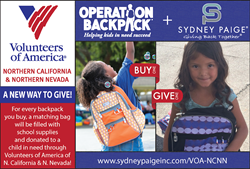 We are so excited to partner with VOA-NCNN and work with such a passionate group who shares our goal of helping underserved children learn and thrive in school.
Sacramento, CA (PRWEB) July 14, 2015
For years, Volunteers of America of Northern California & Northern Nevada (VOA-NCNN) have distributed thousands of backpacks filled with school supplies to kids in need in the communities they serve. Their efforts started out with a sizable goal to ensure that each year, all of the kids in their homeless shelters and programs would go to school with a brand new backpack filled with grade-appropriate school supplies. Thanks to VOA-NCNN's passion as well as the generosity of community members and local businesses, they quickly exceeded this goal and now distribute backpacks and supplies to hundreds of other local non-profits serving children in need as well.
This year, they are hoping to grow their impact even further by teaming up with Sydney Paige, Inc., a Buy One | Give One company, where for each backpack sold, a matching bag will be filled with school supplies and donated to a child in need. "We are so excited to partner with VOA-NCNN and the additional kids in need this will allow us to reach," says Courtney Brockmeyer, Founder & CEO of the buy/give backpack company, "as well as being able to work with such a passionate group who shares our goal of helping underserved children learn and thrive in school."
Both VOA-NCNN and Sydney Paige® are passionate about these children starting the school year off prepared and confident. Brockmeyer states, "The top reasons for kids dropping out of school are simply lack of confidence and the lack of tools to do their work. By providing underserved children with new, high quality backpacks and the supplies they need, we are providing them with a foundation to succeed."
To learn more and purchase Sydney Paige® backpacks, supporters can go to http://www.sydneypaigeinc.com/VOA-NCNN
About Sydney Paige Inc.: Sydney Paige (http://www.sydneypaigeinc.com) is a buy one, give one company where for every product sold, a matching product is donated to a child in need. They sell quality backpacks, accessories and children's books with a focus on education as self-empowerment for a better future. With their products and their 'Giving Back Together' movement, Sydney Paige Inc. addresses the top reasons for drop out, which are the lack of confidence and lack of tools for students to do their work. Sydney Paige products are sold online, through retailers and via fundraisers. Sydney Paige Inc. is certified as a women's business enterprise by the Women's Business Enterprise National Council (WBENC).
About Volunteers of America:
Volunteers of America (http://www.voa.org) is a national, nonprofit, faith-based organization dedicated to helping those in need live healthy, safe and productive lives. Since 1896, their ministry of service has supported and empowered America's most vulnerable groups, including veterans, seniors, people with disabilities, at-risk youth, men and women returning from prison, homeless individuals and families, those recovering from addictions and many others. Through hundreds of human service programs, including housing and health care, Volunteers of America helps almost 2.5 million people in over 400 communities. Their work touches the mind, body, heart and ultimately the spirit of those they serve, integrating their deep compassion with highly effective programs and services.