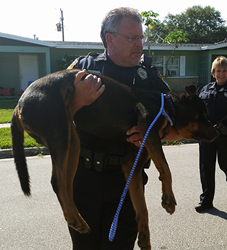 Titusville Police Officer Brian Roy gently carries a sedated Kilo to the car.
Titusville, Florida (PRWEB) June 19, 2015
The mission to help a homeless former bait dog, that started on social media, marked its first major success Thursday morning at the SPCA of Brevard Clinic. A few months ago, during his usual patrol, Titusville Police Officer Brian Roy came across a dog that was living in a neighborhood off of South Street that had been abandoned. Prior to wandering the streets, it was reported that his previous owner tied him up and allowed him to be a bait dog, which is used to train fighting dogs.
"The residents of the neighborhood had been feeding the dog for quite some time and reported that he was quite friendly, but fearful of leashes from his prior experience as a bait dog," said Roy. "He is also not neutered and is suspected of fathering several litters of puppies in the vicinity." Officer Roy couldn't get this dog off his mind and enlisted the help of his wife, Christine, who is one of the administrators of a Facebook group called, "Titusville, Fl....The TRUTH about what's happening?" She posted the dog's story in the group and asked members if they would be willing to help.
The Facebook community rallied around this dog, which residents named Kilo. Angela Dean, Administrator for the SPCA of Brevard, saw the post and offered to help get him the help he needs. Soon after, with the assistance of Officer and Christine Roy, Dean visited the neighborhood to assess the situation with Kilo to see what could be done. They found him to be a very sweet, but very street savvy dog, and arranged for him to be brought in to the Clinic to receive vaccinations and to be neutered to prevent him from fathering any further unwanted litters.
Thursday morning, armed with a sedative and a leash, neighbors, the Roys and SPCA staff rounded up Kilo and brought him to the SPCA Clinic.
"Kilo really is a sweet and gentle dog, especially considering the life he's had until now," explained Dean. "His neuter surgery went smoothly, unfortunately, we discovered that he is heartworm positive and will need to be treated now, too." Heartworms are a deadly disease that affects dogs, which can be caused by a single mosquito bite. Giving your dog a monthly preventative is imperative in a state like Florida where mosquitos are everywhere. Heartworm prevention can only be prescribed by a veterinarian and should be given to dogs every month. Treating heartworm disease is very expensive and can be very painful for the dog, who must be kept calm for several months while the medication kills the heartworms.
Kilo is lucky to have the support system of a community who cares about him. He will spend a couple days at the SPCA of Brevard Clinic and then he will be going to stay with Samantha Parsons, who will foster him while he recovers. The cost to treat Kilo's heartworm disease is about $500. The SPCA is accepting donations in person at 455 Cheney Highway or online at http://www.spcabrevard.com/donate. Please reference account number 33856.
Additional Links: https://www.facebook.com/media/set/?set=a.831395823605371.1073741830.678299145581707&type=3
###
About SPCA of Brevard
The SPCA of Brevard, Inc. is a private, non-profit organization with the mission of "protecting and providing a voice to the homeless animals of Brevard County." Founded in 1979 in Titusville, Florida, the SPCA is the largest private no-kill animal rescue group in Brevard, finding homes for 2300 animals a year. It is the first adoption facility with free-roaming cat rooms in the County, allowing adopters to interact with cats in a more home-like setting. The SPCA of North Brevard Clinic also provides reduced-price vaccines to the public and has performed more than 50,000 low-cost spay/neuter surgeries since 1999.
For more information, visit http://www.spcabrevard.com.