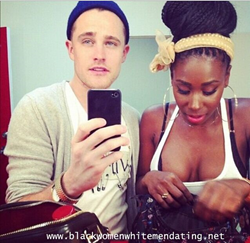 blackwhitemeet.com - Love me, Love my Color.
Los Angeles, California (PRWEB) June 28, 2015
For people who prefer interracial relationships, the number of interracial dating websites is rising. This makes it easy and convenient for people of all races from all over the world to meet, mingle, and even date. Newly launched BlackwhiteMeet.com offers a simple, trusted online dating platform for interracial couples to meet. While the online dating scene can seem new and overwhelming, BlackwhiteMeet.com offers a user-friendly, easily accessible platform that makes online interracial dating possible for virtually anyone.
Across the United States, the rise in interracial couples can be seen on college campuses, shopping malls, coffee shops, and other cultural meccas. Just as interracial relationships have increased in number, so has the number of dating websites. Dating websites for interracial dating were once unheard of, but now black women seeking white men and vice versa have new, versatile options.
Some people feel that interracial dating has been commercialized with the prevalence of interracial dating websites, but users of these websites defend their purpose. With easy to use interfaces, many of these websites are the only opportunity that working, busy adults have to make a real connection and kindle a relationship. BlackwhiteMeet.com helps members search for men and women with a number of search criteria. For instance, users can search for members based on race, age, and location.
By using BlackwhiteMeet.com, meeting white women online is easier for black men who are looking for real relationships. This all-new interracial dating site offers security and anonymity, making it easy for a shy or socially awkward person to hold a conversation with someone while having the assurance of knowing that they are in a safe area. Of course, for the people who use interracial dating sites, safety is a top priority, and the developers of BlackwhiteMeet.com have built in safe features to help people make the connections they want while culling the people who "troll" or otherwise abuse them.
With the number of interracial dating sites on the rise, people around the United States and the world are turning to a brand new way to meet people in safe, secure atmospheres, and the number of people who are opposed to meeting someone online is on a decline due to the adoption of technology. Mobile devices, including smartphones and tablets, have further made it easy for people to connect via dating sites on the go. More information about the newest interracial dating on the market can be found at http://www.blackwhitemeet.com.
About BlackwhiteMeet
BlackwhiteMeet makes it easy for interracial couples to meet via a safe, secure online dating platform.
Contact
1-(855)-599-8811(Toll Free)
1-416-628-1072
Successful Match / InterracialMatch.com
10 - 8707 Dufferin St, Suite 160
Vaughan, Ontario L4J 0A6
Canada