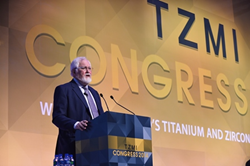 The first session at this years' TZMI Congress will be an Industry Leaders Forum featuring CEO's from leading pigment and feedstock companies
(PRWEB) June 22, 2015
Registrations are now open for TZMI Congress 2015 – the world's premier titanium and zirconium conference.
The 9th annual TZMI Congress will be held from Monday, November 16 to Thursday, November 19 at the Jing An Shangri-La in Shanghai, China.
The TZMI Congress provides delegates with high calibre presentations from prominent global industry leaders and excellent networking opportunities.
The first session at this years' TZMI Congress will be an Industry Leaders Forum featuring CEO's from leading pigment and feedstock companies. The focus will be on key industry developments and their strategic responses to them. Peter Huntsman, President, Chief Executive Officer and Director of Huntsman will be the keynote speaker for this session and David Robb, Managing Director and CEO, Iluka Resources, is confirmed as a speaker in this session.
Presenters already confirmed for the full programme include Paul Betts, Vice President, RBC Capital Markets, Bi Sheng, Chairman, China National Chemical Industry Productivity Center Titanium Dioxide Branch, Duffy Fischer, Director and Senior Chemical Analyst, Barclays, Bernhard Geissinger, Category Manager, Munksjö Group, John Sisay, Chief Executive, Sierra Rutile Limited, Qiu Jianting, General Manager, Jiangsu Taibai with more to be announced. They will be complemented by speakers from TZ Minerals International.
In 2015, TZMI is also pleased to announce its second annual Field Trip to be hosted by CHTi at its TiO2 plant in Ma'anshan. Participants will depart Shanghai on Sunday and spend one night in Nanjing before visiting the Ma'anshan plant on Monday morning.
After a number of years of volatility, 2015 has brought steadier prices to the mineral sands supply chain. However, there are tectonic shifts under way; possible consolidation of feedstock producers, the creation of more pigment focused companies, a lack of risk funding for new projects, China consolidation, low iron ore prices influencing Chinese ilmenite supply, new environmental laws and enforcement in China.
These topics and more will be high on the agenda at the 2015 TZMI Congress.
For more information or to register please visit http://www.congress.tzmi.com
About TZMI
TZ MINERALS INTERNATIONAL (TZMI) is a specialist advisory services company for opaque mineral and chemical markets. Established in 1994, the head office is located in Perth (Australia) and other offices in Shanghai (China), Houston (USA) and Durban (South Africa).
TZMI partners with clients from the private and public sectors to provide bespoke solutions across markets and strategic services and technical and engineering services. Our clients range from the world's 500 largest companies through to mid-sized companies and small businesses. TZMI regularly releases market reports and periodicals on relevant subject matters which support the consulting activities and ensure up-to-date, high quality and comprehensive data, analysis and information is provided.
FURTHER INFORMATION
Emily Hardwick – Marketing Coordinator
TZ Minerals International
E: ehardwick@tzmi.com P: +61 8 9359 6000